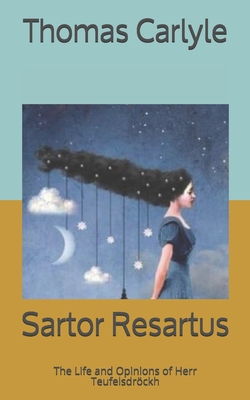 Sartor Resartus (Paperback)
The Life and Opinions of Herr Teufelsdröckh
Independently Published, 9798622377051, 158pp.
Publication Date: March 11, 2020
Other Editions of This Title:
Paperback (3/5/2015)
Paperback (7/21/2013)
Paperback (8/27/2018)
Paperback (9/20/2018)
Paperback (8/12/2018)
Paperback (1/1/2009)
Paperback (3/30/2014)
Paperback (5/20/2009)
Paperback (1/25/2007)
Paperback, Large Print (11/10/2009)
Paperback (4/21/2014)
Paperback (11/17/2012)
Paperback (11/5/2009)
Paperback (4/5/2013)
Paperback (2/4/2009)
Paperback (1/1/2014)
Paperback (8/7/2019)
* Individual store prices may vary.
Description
How, then, comes it, may the reflective mind repeat, that the grand Tissue of all Tissues, the only real Tissue, should have been quite overlooked by Science, -the vestural Tissue, namely, of woollen or other cloth; which Man's Soul wears as its outmost wrappage and overall; wherein his whole other Tissues are included and screened, his whole Faculties work, his whole Self lives, moves, and has its being? For if, now and then, some straggling broken-winged thinker has cast an owl's glance into this obscure region, the most have soared over it altogether heedless; regarding Clothes as a property, not an accident, as quite natural and spontaneous, like the leaves of trees, like the plumage of birds. In all speculations they have tacitly figured man as a Clothed Animal; whereas he is by nature a Naked Animal; and only in certain circumstances, by purpose and device, masks himself in Clothes. Shakespeare says, we are creatures that look before and after: the more surprising that we do not look round a little, and see what is passing under our very eyes.
or
Not Currently Available for Direct Purchase