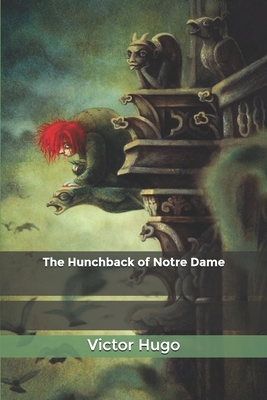 The Hunchback of Notre Dame
Paperback

* Individual store prices may vary.
Other Editions of This Title:
Digital Audiobook (5/13/2007)
Digital Audiobook (7/5/1999)
Digital Audiobook (9/30/2009)
Paperback (11/8/2016)
Paperback (9/23/2020)
Paperback (3/13/2014)
Paperback (2/20/2020)
Paperback (4/21/2019)
Paperback (3/15/2021)
Paperback (3/3/2014)
Paperback (9/13/2021)
Paperback (6/18/2020)
Paperback (1/10/2021)
Paperback (8/25/2020)
Description
Set in medieval Paris, Victor Hugo's powerful historical romance The Hunchback of Notre-Dame has resonated with succeeding generations ever since its publication in 1837. It tells the story of the beautiful gypsy Esmeralda, condemned as a witch by the tormented archdeacon Claude Frollo, who lusts after her. Quasimodo, the deformed bell ringer of Notre-Dame Cathedral, having fallen in love with the kindhearted Esmeralda, tries to save her by hiding her in the cathedral's tower. When a crowd of Parisian peasants, misunderstanding Quasimodo's motives, attacks the church in an attempt to liberate her, the story ends in tragedy.Victor-Marie Hugo was a French poet, playwright, novelist, essayist, visual artist, statesman, human rights activist and exponent of the Romantic movement in France. In France, Hugo's literary fame rests not only upon his novels, but also upon his poetic and dramatic achievements. Among many volumes of poetry, Les Contemplations and La L gende des si cles stand particularly high in critical esteem, and Hugo is sometimes identified as the greatest French poet. Outside France, his best-known works are the novels Les Mis rables and Notre-Dame de Paris (known in English also as The Hunchback of Notre Dame). Though a committed conservative royalist when he was young, Hugo grew more liberal as the decades passed; he became a passionate supporter of republicanism, and his work touches upon most of the political and social issues and artistic trends of his time. He is buried in the Panth on.
Independently Published, 9798624766884, 350pp.
Publication Date: March 16, 2020