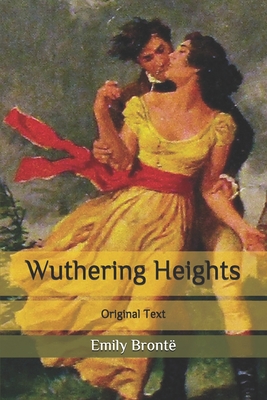 Wuthering Heights
Original Text
Paperback

* Individual store prices may vary.
Other Editions of This Title:
Digital Audiobook (11/16/2009)
Paperback (4/27/2012)
Paperback (8/14/2020)
Paperback (4/7/2018)
Paperback (1/1/2017)
Paperback (7/26/2017)
Paperback (3/19/2009)
Paperback (11/12/2015)
Paperback (2/2/2015)
Paperback (5/13/2019)
Paperback (10/21/2018)
Hardcover (3/19/2009)
Paperback (3/13/2020)
Paperback (10/24/2018)
Paperback (10/29/2018)
Description
Perhaps the most haunting and tragic love story ever written, Wuthering Heights is the tale of Heathcliff, a brooding, troubled orphan, and his doomed love for Catherine Earnshaw. His desire for her leads him to madness, however, when Catherine is made to marry a wealthy lord, sending Heathcliff on a life-long quest to avenge himself upon those who stole his only love and his life. In this gripping chronicle of the never-ending conflict between the heart and the mind - and the pain and passion of true romance.I have just returned from a visit to my landlord-the solitary neighbour that I shall be troubled with. This is certainly a beautiful country In all England, I do not believe that I could have fixed on a situation so completely removed from the stir of society. A perfect misanthropist's heaven: and Mr. Heathcliff and I are such a suitable pair to divide the desolation between us. A capital fellow He little imagined how my heart warmed towards him when I beheld his black eyes withdraw so suspiciously under their brows, as I rode up, and when his fingers sheltered themselves, with a jealous resolution, still further in his waistcoat, as I announced my name.'Mr. Heathcliff?' I said.A nod was the answer.'Mr. Lockwood, your new tenant, sir. I do myself the honour of calling as soon as possible after my arrival, to express the hope that I have not inconvenienced you by my perseverance in soliciting the occupation of Thrushcross Grange: I heard yesterday you had had some thoughts-''Thrushcross Grange is my own, sir, ' he interrupted, wincing. 'I should not allow any one to inconvenience me, if I could hinder it-walk in.
Independently Published, 9798634225487, 252pp.
Publication Date: April 20, 2020