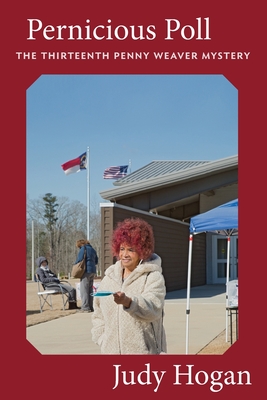 Pernicious Poll
The Thirteenth Penny Weaver Mystery
Paperback

* Individual store prices may vary.
Description
The North Carolina state government has passed a new law that requires voters to show a picture ID. Its real aim is to make it harder for elderly black citizens to vote. Penny Weaver and her friends are working to assist elderly voters to get a state-issued ID. Meantime the lead counsel for the NAACP court challenge to the new law, Becka Cagle is murdered on her doorstep. Penny's friend Sammie learns that her grandson Seb and Sammie's niece Naomi had discovered the joys of sex at ages fourteen and thirteen. Penny, Sammie, and Lt. Lilly Bates of the Sheriff's Department work to solve the murder. While the three women do their own investigation, their friend Kate takes over the role of the dead Becka in the NAACP case, and Penny's husband Kenneth guards Kate. The parents of the teens come together to make new rules for the teens, but Penny ends up keeping her grandson Seb when his parents are busy, and Seb finds it easy to outwit her.
Independently Published, 9798637707591, 170pp.
Publication Date: May 16, 2020