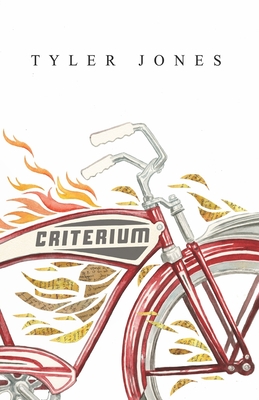 Criterium
Paperback

* Individual store prices may vary.
Description
CRITERIUM: EXTENDED EDITION
Includes an introduction by Jeremy Robert Johnson (The Loop) and the novella Enter Softly Fighting the same addiction that killed his father, a young man stumbles across a strange bike that takes him on a terrifying ride into darkness. "This is small-town Bradbury with a world-weary mean streak: even the magic here seems perfectly happy to break your bones and drag your face across asphalt."
- Jeremy Robert Johnson, author of The Loop and Entropy in Bloom ""A truly excellent novella. The prose is perfect, the story beautifully balanced, and the atmosphere is so strong it feels like you could cut it with a knife. Haunting, uncanny and profound: the strongest and most compelling new voice that I've read in a very long time."
- Michael Marshall Smith, author of Only Forward and The Straw Men "A haunting masterclass in storytelling."
- Eric LaRocca, author of Things Have Gotten Worse Since We Last Spoke "Criterium is a haunting, visceral, gripping story filled with symbolism and allegory. Buckle up for a wild ride that will leave you bruised, shaken, and filled with dread. Tyler Jones is an author to keep an eye on."
- Richard Thomas, author of Disintegration and Spontaneous Human Combustion "Jones' prose in Criterium is like a shot of adrenaline to the heart. Once you turn that first page, you give over any control you once had, and this book will steamroll you into the ride of your life...you can almost feel the wind in your face and the heat on your flesh...he writes this story to within an inch of its life... there are moments of frenzied paranoia and then subtle and melancholic moments of sadness, grief and aloneness. It's intoxicating.
- Ross Jeffery, Bram Stoker nominated author of Juniper and Tome "Criterium is a high-octane ride in every way imaginable. A magnificent example of the type of storytelling that can be achieved through the novella form...mixes relatable real-life grief with metaphor that embodies what addiction horror can be.
- Brennan LaFaro, author of Slattery Falls "Criterium is a gut-wrenching emotional rollercoaster into the real-life horrors of addiction and sorrow. Tyler Jones knows how to hit you where it'll hurt. I highly recommend this story to readers of the supernatural horror genre that are looking for a story that will leave you numb and breathless.
- Andrew Fowlow, The Horror Oasis "Jones managed to write one of my favorite books of the year and I don't say that lightly. His prose is flawless, the ambiance is stunning, and the story has a beautiful darkness...it consumed me in a big way. It will eat you up and spit you out. Criterium is intelligent, haunting, and emotional with a compelling plot that combines the hell of addiction with horror seamlessly. I couldn't put it down if I wanted.
- Janelle Janson, SheReadsWithCats "Tyler Jones' first novella is an unflinching and compassionate view into the black hole of addiction and grief. An intriguing and novel premise that drags real life horror into the depths of the supernatural-compulsively readable."
- Laurel Hightower, author of Crossroads and Whispers in the Dark "What a ride. Criterium is unpredictable, fast-paced, and bleeds with heart. Tyler Jones is one to watch.
- Scott J. Moses, author of Hunger Pangs "This book spoke to me on an emotional and spiritual level. I was moved. Haunted. An arresting story from start to finish...such a powerful piece. I'm adding Zach Ayers to my list of fictional characters who live in my soul forever. His story is achingly beautiful."
- Sadie Hartmann, Cemetery Dance
Independently Published, 9798640005578, 268pp.
Publication Date: August 23, 2020