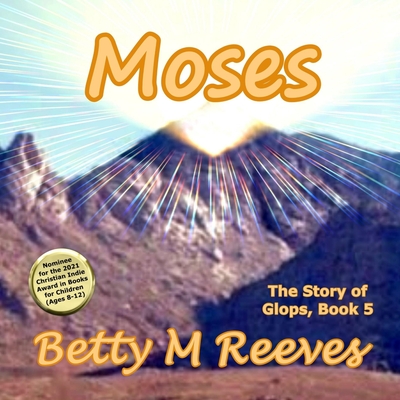 Moses (Paperback)
The Story of Glops, Book 5
Independently Published, 9798640228694, 82pp.
Publication Date: April 25, 2020
* Individual store prices may vary.
Description
Many years after Joseph's death, Egyptians had forgotten him. They made slaves of the Israelites. Pharaoh ordered the death of Israelite baby boys. The imaginary glops helped hide and comfort the babies. The Story of Glops tells how baby Moses survived.Some glops were with Moses all his life. Some glops were with Moses when he fled Egypt, lived in the wilderness, and when he met God on a mountain.Moses and his brother, Aaron, told Pharaoh that the LORD said, "Let My people go." Pharaoh refused to let the Israelites leave Egypt. God proved that He was the One True God. The Israelites were freed and went into the wilderness. Pharaoh changed his mind and took an army to get the slaves back.Did the Israelites return to Egypt as slaves? Did they die in the wilderness? Did God save His people? Read The Story of Glops to find out what happened.
About the Author
Betty M Reeves has written two music books, Melody Street: Story and Illustrations and Guitars & Folk Songs: An Anthology. With daughter Elayne M Hoover-Sims, Betty co-authored The Story of Glops, a Christian book for children and youth. Since then, Betty has continued telling about Glops in a Christian Historical Fiction series. She is an arranger, composer, and self-publisher. She taught music for 23 years and volunteers in the music ministry of her church. She holds a Bachelor of Music Education from Texas Tech University and a Master of Arts in Music with Kodaly Certification from WTA&M University. Betty and her husband Glenn live in Borger and Amarillo, Texas. They are blessed with five grown children, nine grandchildren, and many great-grandchildren.
Praise For Moses: The Story of Glops, Book 5…
Moses: The Story of Glops, Book 5 is a thorough telling of the Biblical story of Moses, filled with lots of historical information and fantastic photos and illustrations. I've been a children's Bible teacher for over twenty years, and I think this book would be a great resource for any teacher wanting to go a step further with their lessons. I enjoyed the book very much, and would recommend all of the Glops stories. Thank you for sharing your story with me! Best wishes for success!
Kim Black, Award-Winning Author of Fiction; Designer;
Texas High Plains Writers, Amarillo, TX

The author truly makes these Biblical stories come to life. The prose is crisp, clean, and easy to read. And the "glops" themselves--shape-shifting creatures who help narrate and comment on the tales--are an ingenious invention. They serve as child-friendly guides to dramatic events, providing warmth, context, and reassurance. Overall, an absolutely great job!
Laura Aldir-Hernandez, Independent Writing Professional,
SCBWI Member, and retired Florida Lawyer

The way this story begins caught my attention right away. "Then Moses said …" We all sit forward and listen for the rest of the sentence. It's the classic tale of Moses with the addition of adorable and comforting little glops, who share the story with us as it unfolds. I recommend this book to all who enjoy reading about God's ways and His love for His people. This imaginative tale combines true Biblical history with just enough fantasy to inspire imagination in children. It keeps them following along. In this book, readers learn how Moses served God, despite the hardships he and his family endured. It also explains and teaches about Passover and Easter in simple terms that all kids can grasp. From the Ten Commandments to Aaron's blossoming staff, nothing is left out in this delightful children's book. Photos and pictures bring color and texture to each step of the story. The picture that spoke to me most was of Moses holding up his staff as God parted the Red Sea. That moment is one of the greatest in the Bible, and it leaves a lasting impression. Congratulations, Betty, on another great job of storytelling!
Verna Coy, Artist, Author, Book Critic and Reviewer;
Currently Working with Online Book Club, Nenana, AK

I congratulate you on your best ever glops story. This is a complex story, yet you found a way to tell the story in a cohesive, understandable, simplified way. I could tell you were using your own imagination in describing details that would bring the story alive for kids, and for ME, as well.
Jeannie F Linzie, Retired Library Associate,
New Mexico Highlands University, Las Vegas, NM

Moses is a beautifully written, well-rounded book for all ages. I find this book to be exquisite! The best part of this book series is that it witnesses to the truth written in God's Word. People need to hear the TRUTH, now more than ever.
I home school my six-year-old son, through a Christian education program. We often enjoy reading books reflective of the Holy Spirit-breathed scriptures. After reading a story, such as The Story of Glops, it becomes a part of our class experience. We compare it to the gospel directly. This helps younger minds put into perspective what they have already read in the Bible. This also enables their imagination to flourish as they advance their reading capabilities.
Barina Romero, Assistant Pastor Beulah Ministries;
Freelance Copywriter, Ghostwriter, Blogger, Amarillo, TX

Betty's story telling skills brings scripture to life for children. Seen through the eyes of the Glops, chameleon-like creatures, she cleverly leads the reader through the complex journey of salvation instituted by God and executed by Moses. An intriguing read for both children and adults. The book is hard to put down. I know I'll read it again and again.
Suzana Sandoval, Author, Vice President-Elect, Texas High
Plains Writers; President, Pro Club Toastmasters, Amarillo, TX

In Moses: The Story of Glops, Book 5, author Betty M Reeves' narrative storytelling takes both the stories and lessons of Moses and simplifies them in a delightfully clear way that will keep children engaged. Through the imaginary glops, who provide fun asides that will excite the imaginations of children and adults alike, Reeves really brings these Biblical figures to life.
Rick Treon, Award-Winning Author of the 2019 PenCraft Award
for Literary Excellence, Texas High Plains Writers, Amarillo, TX