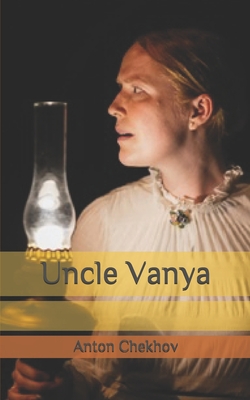 Uncle Vanya
Paperback

* Individual store prices may vary.
Other Editions of This Title:
Digital Audiobook (1/29/2014)
Paperback (12/8/2020)
Paperback (7/1/2021)
Paperback (5/15/2018)
Paperback (6/21/2013)
Paperback (11/4/2019)
Paperback (1/21/1994)
Paperback (9/2/2018)
Paperback (3/14/2014)
Paperback (10/16/2020)
Hardcover (9/20/2018)
Paperback (10/16/2020)
Paperback (5/20/2018)
Description
This structurally and psychologically compact drama takes place on an estate in 19th-century Russia, exploring the complex interrelationships between a retired professor, his second wife, and the daughter and brother-in-law from his first marriage. Interwoven themes of weakness, delusion, and despair are balanced by an underlying message of courage and hope.A country house on a terrace. In front of it a garden. In an avenue of trees, under an old poplar, stands a table set for tea, with a samovar, etc. Some benches and chairs stand near the table. On one of them is lying a guitar. A hammock is swung near the table. It is three o'clock in the afternoon of a cloudy day. MARINA, a quiet, grey-haired, little old woman, is sitting at the table knitting a stocking. ASTROFF is walking up and down near her. MARINA. Pouring some tea into a glass] Take a little tea, my son. ASTROFF. Takes the glass from her unwillingly] Somehow, I don't seem to want any. MARINA. Then will you have a little vodka instead? ASTROFF. No, I don't drink vodka every day, and besides, it is too hot now. A pause] Tell me, nurse, how long have we known each other? MARINA. Thoughtfully] Let me see, how long is it? Lord-help me to remember. You first came here, into our parts-let me think-when was it? Sonia's mother was still alive-it was two winters before she died; that was eleven years ago- thoughtfully] perhaps more.
Independently Published, 9798642769935, 50pp.
Publication Date: May 7, 2020