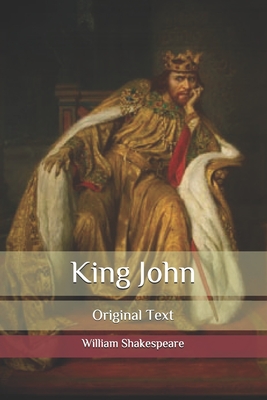 King John
Original Text
Paperback

* Individual store prices may vary.
Other Editions of This Title:
Digital Audiobook (5/6/2006)
Paperback (12/11/2019)
Paperback (2/27/2020)
Paperback (3/1/2020)
Paperback (5/22/2018)
Paperback (7/6/2021)
Paperback (1/30/2020)
Paperback (2/1/2021)
Paperback (1/1/2009)
Paperback (2/24/2020)
Paperback (7/27/2018)
Paperback (5/19/2020)
Paperback (6/14/2019)
Paperback (7/28/2018)
Paperback (7/30/2018)
Paperback (5/12/2018)
Description
England is forced into war when the French challenge the legitimacy of Johns claim to the throne and are determined to install his nephew Arthur in his place. Political principles, hypocritically flaunted, are soon forgotten as the French and English kings form an alliance based on cynical self-interest. And as the desire to cling to power dominates Englands paranoid and weak-willed king, his country is threatened with disaster Enter KING JOHN, QUEEN ELINOR, PEMBROKE, ESSEX, SALISBURY, and others, with CHATILLON ]KING JOHN Now, say, Chatillon, what would France with us? CHATILLON Thus, after greeting, speaks the King of France In my behavior to the majesty, The borrow'd majesty, of England here. QUEEN ELINOR A strange beginning: 'borrow'd majesty ' KING JOHN Silence, good mother; hear the embassy. CHATILLON Philip of France, in right and true behalf Of thy deceased brother Geffrey's son, Arthur Plantagenet, lays most lawful claim To this fair island and the territories, To Ireland, Poictiers, Anjou, Touraine, Maine, Desiring thee to lay aside the sword Which sways usurpingly these several titles, And put these same into young Arthur's hand, Thy nephew and right royal sovereign.
Independently Published, 9798643263852, 114pp.
Publication Date: May 10, 2020