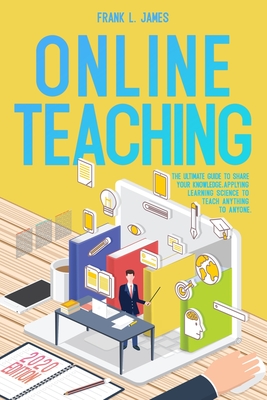 Online Teaching
The Ultimate Guide to Share Your Knowledge, Applying Learning Science to Teach Anything to Anyone.
Paperback

* Individual store prices may vary.
Description
Are you a teacher feeling overwhelmed by the daunting task of teaching online because of the ongoing situation?Or, you are interested in teaching online, but you are not sure where to start?
The ongoing situation surely has people across the world working from home, and for teachers, things can be a bit tricky. If you're a teacher suddenly faced with the task of learning how to teach classes online, you might be feeling overwhelmed-and that's totally understandable.

After all, everything happened overnight. You went from your normal routine of working with your students in the classroom to "being forced" to move all your teaching online all of a sudden, and maybe without any training or support. And we have no idea how long this "new normal" will last.

You might be asking: How do I do an effective job of teaching online?
Teaching online, like any new experience, might feel a bit challenging at first if you're used to working in a face-to-face classroom. But, with some guidance and preparation, you will surely survive - or even stand out-as a virtual instructor.

That's why I wrote this simple guide to help you figure everything out and gain confidence. Since I'm a big believer in the power of online learning, I want to share online teaching resources and tips I've used and developed over the years to help you.

In this book, you will learn:
Designing for Learning

Backward Design

Guiding Learning Through Engagement

Using Media and Technology Tools

Building Community, Giving Feedback, and Dealing with Difficult Students

Motivating Online Students (and Instructors)

Building Connections

Developing as an Online Instructor
Whether you're a teacher teaching a virtual class for the first time, an online instructor with experiences looking for new ideas, or even a student or parent just wanting to know more about digital education, this book will give you practical advice and useful resources for learning on the internet.

So what are you waiting for?

If you are looking for further support on developing effective distance training skills or thinking to make money teaching online, then click the BUY NOW BUTTON and be a pro

Independently Published, 9798651888658, 116pp.
Publication Date: June 10, 2020