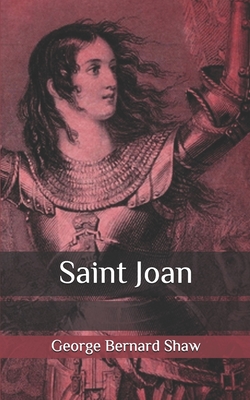 Saint Joan
Paperback

* Individual store prices may vary.
Other Editions of This Title:
Paperback (7/17/2020)
Paperback (2/6/2017)
Paperback (12/28/1923)
Paperback (7/3/2020)
Paperback (11/19/2020)
Paperback (4/27/2021)
Paperback (1/1/2021)
Paperback (3/30/2020)
Paperback (10/18/2020)
Paperback (3/5/2021)
Paperback (2/4/2021)
Paperback (3/30/2020)
Paperback (2/11/2021)
Paperback (5/20/2020)
Paperback (5/20/2020)
Paperback (2/4/2021)
Hardcover (12/28/1923)
Description
Shaw reaches the height of his fame as a dramatist with the release of Saint Joan. Fascinated by the story of Joan of Arc (canonized in 1920), but unhappy with "the whitewash which disfigures her beyond recognition," he presents a realistic Joan: proud, intolerant, na ve, foolhardy, always brave-a rebel who challenged the conventions and values of her day.Joan of Arc, a village girl from the Vosges, was born about 1412; burnt for heresy, witchcraft, and sorcery in 1431; rehabilitated after a fashion in 1456; designated Venerable in 1904; declared Blessed in 1908; and finally canonized in 1920. She is the most notable Warrior Saint in the Christian calendar, and the queerest fish among the eccentric worthies of the Middle Ages. Though a professed and most pious Catholic, and the projector of a Crusade against the Husites, she was in fact one of the first Protestant martyrs. She was also one of the first apostles of Nationalism, and the first French practitioner of Napoleonic realism in warfare as distinguished from the sporting ransom-gambling chivalry of her time. She was the pioneer of rational dressing for women, and, like Queen Christina of Sweden two centuries later, to say nothing of Catalina de Erauso and innumerable obscure heroines who have disguised themselves as men to serve as soldiers and sailors, she refused to accept the specific woman's lot, and dressed and fought and lived as men did.
Independently Published, 9798655122857, 144pp.
Publication Date: July 17, 2020