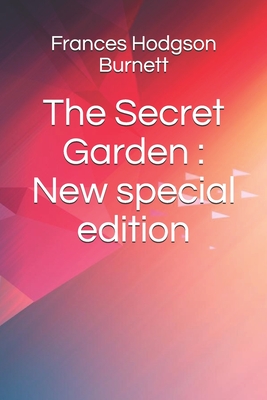 The Secret Garden
New special edition
Paperback

* Individual store prices may vary.
Other Editions of This Title:
Paperback (6/26/2018)
Paperback (7/15/2020)
Paperback (9/1/2004)
Paperback (5/16/2020)
Paperback (4/19/2011)
Paperback (4/30/2020)
Paperback (2/22/2020)
Paperback (10/15/2015)
Paperback (6/13/2020)
Paperback (6/5/2019)
Paperback (4/21/2020)
Paperback (4/3/2020)
Paperback (11/7/2011)
Paperback (7/25/2011)
Paperback (8/6/2018)
Paperback (1/4/2020)
Paperback (4/1/2020)
Paperback (2/22/2020)
Paperback (8/15/2018)
Description
Mary Lennox is a sour-faced 10-year-old girl, who is born in India to selfish wealthy British parents who had not wanted her and were too wrapped up in their own lives. She was taken care of primarily by servants, who pacify her as much as possible to keep her out of the way. Spoiled and with a temper, she is unaffectionate, angry, rude and obstinate. Later, there is a cholera epidemic which hits India and kills her mother, father and all the servants. She is discovered alone but alive after the house is empty. She is sent to Yorkshire, England to live with her uncle, Archibald Craven at his home called Misselthwaite Manor.We are happy to announce this classic book. Many of the books in our collection have not been published for decades and are therefore not broadly available to the readers. Our goal is to access the very large literary repository of general public books. The main contents of our entire classical books are the original works. To ensure high quality products, all the titles are chosen carefully by our staff. We hope you enjoy this classic.
Independently Published, 9798655341968, 288pp.
Publication Date: June 19, 2020