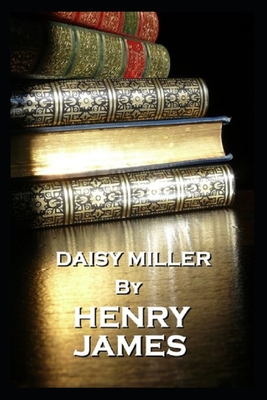 Daisy Miller
A STUDY "Annotated" Love, Sex & Marriage Humour
Paperback

* Individual store prices may vary.
Other Editions of This Title:
Paperback (10/2/2019)
Paperback (5/14/2015)
Paperback (2/24/2019)
Paperback (6/19/2019)
Paperback (4/16/2017)
Paperback (10/27/2013)
Paperback (8/11/2015)
Paperback (12/2/2018)
Paperback (8/16/2018)
Paperback (5/26/2010)
Paperback (9/7/2018)
Paperback (12/6/2019)
Paperback (2/19/2016)
Paperback (9/28/2013)
Paperback (1/8/2014)
Paperback, Spanish (2/28/2014)
Paperback (10/5/2016)
Description
In the little town of Vevey, Switzerland, Winterbourne, a younger American gentleman, vacationed on the Trois Couronnes inn, the nicest of the hotels bordering Lake Geneva. Toward the end of June, many American travelers descended upon the city. Winterbourne had lived in Geneva given that he changed into a boy and attended college there. It turned into rumored that he was devoted to an older woman which stored him in Geneva. He had come to Vevey so one can visit his aunt but she became indisposed one night with a headache, which became no longer unexpected.Winterbourne retired to the garden for espresso and a cigarette. A small boy got here upon him with an extended alpenstock. The boy requested Winterbourne for his more sugar which Winterbourne gave him disapprovingly. The boy's phrase desire and accessory confirmed to Winterbourne that he changed into American. The boy proclaimed that American candy turned into the great and he and Winterbourne jokingly declared that American boys and guys have been the excellent. The boy's strikingly quite older sister approached and reprimanded her brother, Randolph, for kicking up gravel. Randolph informed his sister that Winterbourne changed into American and Winterbourne figured this become a great enough creation to provide himself to the lady. She replied indifferently. Winterbourne pointed to interesting attractions in view and the girl paid extra attention. He found out that she was no longer embarrassed however direct and unaffected. Her stunning face become sensitive though slightly unfinished and he figured that she may be a coquette. She informed Winterbourne approximately her own family and their travels.She, her mother, and Randolph had been travelling to Rome for the winter. They got here from Schenectady, New York wherein her father became a rich businessman. Randolph told Winterbourne that the lady's name turned into Annie P. Miller even though they known as her Daisy. Daisy defined to Winterbourne that Randolph wanted to go returned home. She talked like she was Winterbourne's vintage buddy. Her manner though turned into uncultivated and she bragged about the many gentleman she knew in New York. Winterbourne could not decide whether she was in reality innocent or designing. She must be a flirt. Daisy asked Winterbourne if he had been to "the vintage fortress", the Ch teau de Chillon. Her brother did not want to go so her mother and he or she might now not be capable of either. Winterbourne commented that he might take her and her mom. He became pleased whilst she replied that her mother could probable choose to stay at the hotel. When Eugenio the pretentious courier arrived to tell the children of lunch, Daisy informed him that she would get to the antique fort in spite of everything. Winterbourne informed Daisy he could introduce her to someone who ought to vouch for him.
Independently Published, 9798665768717, 158pp.
Publication Date: July 12, 2020