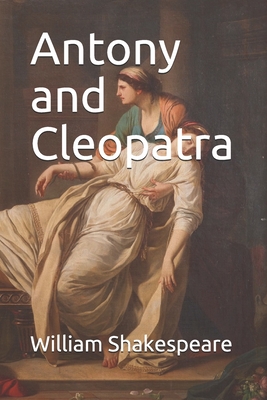 Antony and Cleopatra
Paperback

* Individual store prices may vary.
Other Editions of This Title:
Paperback (2/9/2014)
Paperback (5/20/2013)
Paperback (12/2/2012)
Paperback (12/2/2012)
Paperback (12/2/2012)
Paperback (12/2/2012)
Paperback (11/15/2017)
Paperback (7/27/2018)
Paperback (2/12/2010)
Paperback, Russian (8/18/2019)
Paperback (5/11/2017)
Paperback (5/22/2018)
Paperback (6/10/2019)
Paperback (4/1/2019)
Paperback (9/10/2014)
Paperback (5/19/2020)
Paperback (5/9/2015)
Paperback (3/5/2020)
Paperback (7/20/2018)
Paperback (6/19/2019)
Description
Book Excerpt: ...EOPATRA.Hear the ambassadors.ANTONY.Fie, wrangling queen Whom everything becomes, --to chide, to laugh, To weep; whose every passion fully strivesTo make itself in thee fair and admir'd No messenger; but thine, and all aloneTo-night we'll wander through the streets and noteThe qualities of people. Come, my queen;Last night you did desire it: --speak not to us. Exeunt ANTONY and CLEOPATRA, with their Train.]DEMETRIUS.Is Caesar with Antonius priz'd so slight?PHILO.Sir, sometimes when he is not Antony, He comes too short of that great propertyWhich still should go with Antony.DEMETRIUS.I am full sorryThat he approves the common liar, whoThus speaks of him at Rome: but I will hopeOf better deeds to-morrow. Rest you happy Exeunt.]SCENE II. Alexandria. Another Room in CLEOPATRA'S palace. Enter C.
Independently Published, 9798668376933, 116pp.
Publication Date: October 9, 2020