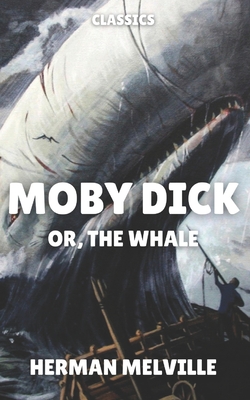 Moby Dick
or, The Whale
Paperback

* Individual store prices may vary.
Other Editions of This Title:
Digital Audiobook (6/15/2005)
Digital Audiobook (3/28/2010)
Digital Audiobook (1/26/2009)
Digital Audiobook (7/25/2016)
Paperback (4/30/2016)
Paperback (5/11/2015)
Paperback (11/2/2015)
Paperback (8/8/2019)
Paperback (9/6/2018)
Paperback, Spanish (7/21/2020)
Paperback, Spanish (7/21/2020)
Paperback, Spanish (7/21/2020)
Paperback, Spanish (7/21/2020)
Paperback, Spanish (7/21/2020)
Paperback (8/10/2015)
Paperback (6/24/2020)
Description
Moby Dick, a novel by Herman Melville, published in London in October 1851 as The Whale and a month later in New York City as Moby-Dick; or, The Whale. It is dedicated to Nathaniel Hawthorne. Moby Dick is generally regarded as Melville's magnum opus and one of the greatest American novels. Moby Dick famously begins with the narratorial invocation "Call me Ishmael." The narrator, like his biblical counterpart, is an outcast. Ishmael, who turns to the sea for meaning, relays to the audience the final voyage of the Pequod, a whaling vessel. Amid a story of tribulation, beauty, and madness, the reader is introduced to a number of characters, many of whom have names with religious resonance. The ship's captain is Ahab, who Ishmael and his friend Queequeg soon learn is losing his mind. Starbuck, Ahab's first-mate, recognizes this problem too, and is the only one throughout the novel to voice his disapproval of Ahab's increasingly obsessive behavior. This nature of Ahab's obsession is first revealed to Ishmael and Queequeg after the Pequod's owners, Peleg and Bildad, explain to them that Ahab is still recovering from an encounter with a large whale that resulted in the loss of his leg. That whale's name is Moby Dick. The Pequod sets sail, and the crew is soon informed that this journey will be unlike their other whaling missions: this time, despite the reluctance of Starbuck, Ahab intends to hunt and kill the beastly Moby Dick no matter the cost.
Independently Published, 9798669455712, 392pp.
Publication Date: July 25, 2020
or
Not Currently Available for Direct Purchase