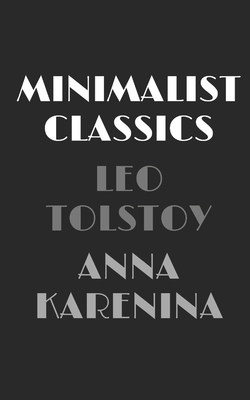 Anna Karenina (Paperback)
Independently Published, 9798670542975, 700pp.
Publication Date: July 29, 2020
Other Editions of This Title:
Digital Audiobook (9/5/2012)
Digital Audiobook (6/29/2010)
Digital Audiobook (12/13/2006)
Digital Audiobook (12/8/2003)
Paperback (10/29/2017)
Paperback (7/15/2010)
Paperback (11/1/2013)
Paperback (12/22/2016)
* Individual store prices may vary.
Description
Annotated & Unabridged & Uncensored Edition. Anna Karenina, novel by Leo Tolstoy, published in installments between 1875 and 1877 and considered one of the pinnacles of world literature. The narrative centres on the adulterous affair between Anna, wife of Aleksey Karenin, and Count Vronsky, a young bachelor. Karenin's discovery of the liaison arouses only his concern for his own public image. Anna promises discretion for the sake of her husband and young son but eventually becomes pregnant by Vronsky. After the child is born, Anna and the child accompany Vronsky first to Italy and then to his Russian estate. She begins making furtive trips to see her older child and grows increasingly bitter toward Vronsky, eventually regarding him as unfaithful. In desperation, she goes to the train station, purchases a ticket, and then impulsively throws herself in front of the incoming train. A parallel love story, involving the difficult courtship and fulfilling marriage of Kitty and Levin, provides a rich counterpoint to the tragedy and is thought to reflect Tolstoy's own marital experience. There is an inevitability about the tragic fate that hangs over the adulterous love of Anna and Vronsky. "Vengeance is mine, I will repay" is the epigraph of the novel and the leitmotif of the story. Anna pays not so much because she transgresses the moral code but because she refuses to observe the proprieties customarily exacted in such liaisons by the hypocritical high society to which she belongs. What is it about Anna Karenina that gives it special status among the great novels? How is it that a sensational romantic tragedy of tsarist high society, interspersed with digressions into 19th-century Russian agricultural policy, written in a seemingly plain, straightforward style across 900 pages, still provokes both excitement and respect from readers as diverse as JM Coetzee, Jonathan Franzen and Oprah Winfrey, and lures Tom Stoppard to write the script for the latest of a dozen film adaptations? The book floats in some charmed section of the lake of literary opinion where the ripples from modernism and the ripples from Hollywood overlap without merging. It is more admired than learned from. Anna Karenina couldn't be less like a conventional modern novel. Instead of a barrage of metaphors describing things in terms of other things that they resemble, Lev Tolstoy seeks the precise word for the thing itself. Instead of the solipsistic modern mode of events being experienced from the point of view of a single character, Tolstoy slips in and out of the consciousness of dozens of characters, major and minor. At one point he tells us what a character's dog is thinking. Tolstoy doesn't believe in "show, don't tell". He likes to show and tell. The teller, the narrator of the book, is a formless, omniscient voice with no elaborate Rothian construct to justify his role. No first-person or free-indirect speech here. Even while we're in a character's head, it's the narrator who recounts the character's experiences through liberal use of such unfashionable phrases as "she thought", "he felt" and "it seemed to him that". Tolstoy creates a space for the narrator's independence - the narrator is close enough to the characters to rely on them for his existence, but free enough to pass unchallenged judgment on their actions, and to tell us things about them that they don't know about themselves. The most powerful passages are those where Tolstoy slows time down to note each thought, gesture and feeling of Anna and her lover Vronsky, with a third entity present - the narrator - not only lodged deep in the two psyches, but standing back to tell us the ways in which one is misunderstanding the other.