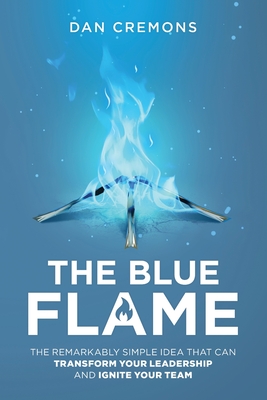 The Blue Flame
The Remarkably Simple Idea That Can Transform Your Leadership, and Ignite Your Team
Paperback

* Individual store prices may vary.
Description
Companies everywhere are missing out on a big opportunity - their people have much more to give than many leaders are tapping into. And now more than ever, high expectations, aggressive growth goals, and a quickly moving world leaves leaders scrambling to figure out how to extract the very best from their people.Leaders need their people to light up. And their people want this too.The Blue Flame teaches leaders how a simple, but powerful conversation can help them to get more of their peoples' best stuff, help employees to fall in love with their work, and help fuel better results for their company.In the book, rich stories and case studies, the latest in organizational research and neuroscience, and in-the-trenches leadership experience converge to help leaders ignite extraordinary new levels of fulfillment, engagement, and results on their teams.PRAISE FOR THE BLUE FLAME"In today's knowledge economy, people are everything in business - and lighting them up is the heart of a leader's role. Your employees are the foundation that your company's success is built on, and if they aren't operating at full power, neither will your business. Learn how to unlock your company's potential with The Blue Flame "Marshall GoldsmithNew York Times #1 Bestselling Author and Only Two-Time #1 Leadership Thinker in the World."The most important ingredient of a company is its people, and The Blue Flame hones in on how to align every individual's talents, passions, and deep sense of purpose to create a world where employees don't just love their jobs, they also excel at them. Imagine if every company could operate this way "Julie ZhuoAuthor of Wall Street Journal Bestseller, The Making of a Manager."Dan Cremons has done it. His book, The Blue Flame, offers practical tools on how to unleash the potential in others. Read Dan's book and you will learn how to ignite the natural talents, passion, and purpose within every person and team... and how doing so can translate into real results for your business."Michael K. Simpson Amazon Bestselling Author, Powerful Leadership Through Coaching and Unlocking Potential"Having been in the leadership development space for over 26 years, it is super exciting and thrilling to come across a new book that totally nails it...in its context, its content and its applicability...and with the bonus of great storytelling. This brilliant new work by Dan Cremons is one of those books. I cannot recommend this book enough for every member of your organization."Rick Tamlyn Author of Play Your Bigger Game, Expert in Leadership Development, and F100 Advisor.
Independently Published, 9798672821368, 212pp.
Publication Date: August 18, 2020