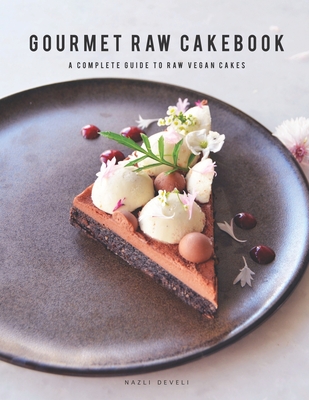 Gourmet Raw Cakebook
A Complete Guide to Raw Vegan Cakes
Paperback

* Individual store prices may vary.
Other Editions of This Title:
Hardcover (12/25/2020)
Description
BOOK DESCRIPTION
Raw Pastry Chef & Instructor "Nazli Develi" collected the treasures she provided in her classes in this book and offers you a complete guide to raw desserts that are free from gluten, eggs, dairy and refined sugars, and with full nutritious benefits since the ingredients are not exposed to heat, their nutritional value and natural color remain intact.
Whether you're new to raw cakes and want to learn everything from the scratch or a professional that needs some new delicious raw dessert inspiration, Gourmet Raw Cakebook will provide you innovative recipes and many best technical know-hows, so you can introduce a whole new range of raw desserts to your life
This book is adapted to all levels and for anyone who is looking to take their raw food recipes to the next level, whether for personal gratification alone or for high-level professional development.
"Raw desserts" will give you a sense of eating something pure and truly delicious - without the negative impact that many cooked desserts have on your body and with all of the nutritiousness and deliciousness left well-and-truly in
Inside this book; you will find all the information about the ingredients used to make raw cakes, from unrefined sugar alternatives to healthy fats, special ingredients such as superfoods, salts, essential oils, healthy binding agents to achieve the right consistency and much more.
You will also find NUT-FREE raw cake recipes, pralines and tempering chocolate from scratch, tips for a successful experience in the kitchen, how to make right decisions while shopping, and many of the fundamental factors that play a key role in the taste and texture of your desserts, such as flavor balance and how to improve the plating and presentation of your creations like a pro
Author also shares her signature recipes, tips, secrets, all the techniques and knowledge she has acquired over the years to create the most beautiful, show-stopping raw cakes to help you mastering the ART of MAKING RAW CAKES.
This book provides you with a solid foundation to elevate your cakes easily from ordinary to extraordinary at the comfort of your home - anytime, anywhere
See more about Author's creations on Instagram: @gurmevegan
BOOK REVIEWS:
"The book doesn't just stop at providing you with delicious creative recipes. Some nice extras are learning to temper chocolate, making pralines, and getting all the know-hows on cake decorating.
Also, the art of cake decorating is extensively (explained) in this book. The decorations look stunning The detailed explanation of how to make and handle buttercream to make perfect decorations, it's almost like there are many courses within 1 course book. I think this will usually add up to a few hundred euros if you were to take these courses separately on-site "
Florence Mesters - Magickal Vegan Life
"We've been very fortunate to find incredible teachers in our life. Nazli was one of them. She ignited curiosity in us and invited me to explore plant based raw cuisine. We recently started our business. This book helped us a lot to learn everything from scratch professionally."
Ana's & Audrey - Raw in Nice Bakery
"Kondisklassiker p nytt's tt Dammsugarpraliner r ett av flera recept i Nazlı Develis nyutkomna "Gourmet Raw Cakebook". I boken serverar hon en l ng rad recept p t rtor, bakelser och praliner utan gluten, gg, mj lk och raffinerat socker."
Sweden's Journal Chocolate Magazine
Independently Published, 9798675676002, 250pp.
Publication Date: August 16, 2020