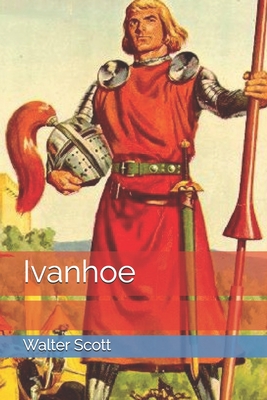 Ivanhoe
Paperback

* Individual store prices may vary.
Other Editions of This Title:
Paperback (7/22/2014)
Paperback (12/14/2015)
Paperback, German (4/5/2018)
Paperback, Spanish (8/5/2020)
Paperback, Spanish (8/5/2020)
Paperback (6/21/2020)
Paperback (12/13/2015)
Paperback (3/10/2009)
Paperback (4/18/2020)
Paperback (1/18/2021)
Paperback, Spanish (12/1/1999)
Paperback (4/10/2020)
Paperback (1/1/2014)
Paperback (2/14/2017)
Paperback, Dutch (12/1/2012)
Paperback, Spanish (8/4/2020)
Paperback (5/8/2015)
Paperback (10/22/2018)
Paperback (2/2/2009)
Description
Book Excerpt: ...well, and go to sleep, And I will lap thee with my cope, Softly to lye."It would seem that the manuscript is here imperfect, for we do not find the reasons which finally induce the curtal Friar to amend the King's cheer. But acknowledging his guest to be such a "good fellow" as has seldom graced his board, the holy man at length produces the best his cell affords. Two candles are placed on a table, white bread and baked pasties are displayed by the light, besides choice of venison, both salt and fresh, from which they select collops. "I might have eaten my bread dry," said the King, "had I not pressed thee on the score of archery, but now have I dined like a prince---if we had but drink enow."This too is afforded by the hospitable anchorite, who dispatches an assistant to fetch a pot of four gallons from a secret corner near his bed, and the whole three set in to serious drinking. This amusement is superintended by the Friar, according to the recurrence of certain fustian words, to be repeate...
Independently Published, 9798682784455, 466pp.
Publication Date: September 17, 2020