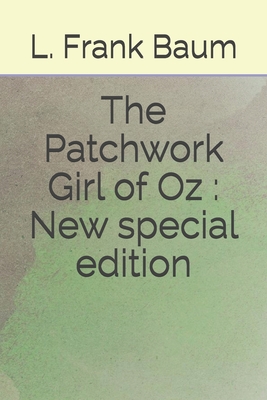 The Patchwork Girl of Oz
New special edition
Paperback

* Individual store prices may vary.
Other Editions of This Title:
Paperback (8/31/2012)
Paperback (3/14/2013)
Paperback (5/1/2012)
Paperback (2/22/2020)
Paperback (10/22/2020)
Paperback (2/5/2021)
Paperback (9/25/2019)
Paperback (2/5/2021)
Paperback (1/8/2021)
Paperback (4/9/2013)
Paperback (2/22/2020)
Paperback (11/13/2017)
Paperback (2/7/2021)
Paperback (4/4/2020)
Description
Forced to venture out of the dark forest, Unc Nunkie and Ojo the Unlucky call on the Crooked Magician, who introduces them to his latest creation: a living girl made out of patchwork quilts and cotton stuffing. But when an accident leaves beloved Unc Nunkie a motionless statue, it is up to Ojo to save him. In his search for the magic ingredients that will restore his uncle to life, Ojo is joined by the Patchwork Girl and by the conceited Glass Cat, who boasts of her hard ruby heart, the resourceful Shaggy Man, and the lovable block-headed Woozy, whose tail hairs are just one of the things Ojo needs to rescue Une Nunkie.As they travel to the Emerald City, home of the wise and powerful Ozma, they meet Dorothy, the kind and sensible girl from Kansas; the gallant Scarecrow; and, of course, Toto. But no one proves more loyal than the spirited Patchwork Girl, who, although she was brought to life as a servant, is determined to see the wide world for herself.We are happy to announce this classic book. Many of the books in our collection have not been published for decades and are therefore not broadly available to the readers. Our goal is to access the very large literary repository of general public books. The main contents of our entire classical books are the original works. To ensure high quality products, all the titles are chosen carefully by our staff. We hope you enjoy this classic.
Independently Published, 9798687282499, 264pp.
Publication Date: September 17, 2020