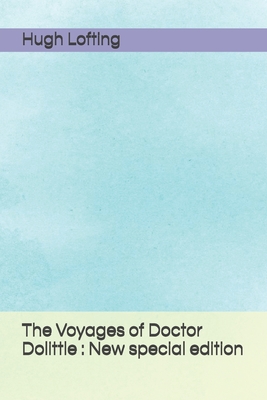 The Voyages of Doctor Dolittle
New special edition
Paperback

* Individual store prices may vary.
Other Editions of This Title:
Digital Audiobook (9/7/2020)
Digital Audiobook (9/6/2021)
Digital Audiobook (10/12/2020)
Digital Audiobook (12/9/2020)
Digital Audiobook (12/31/2005)
Paperback (1/1/1920)
Paperback (1/12/2005)
Paperback (12/29/2018)
Paperback (10/28/2018)
Paperback (11/10/2013)
Paperback (10/12/2020)
Paperback (9/13/2021)
Description
Doctor John Dolittle, the veterinarian who can actually talk to animals, sets sail on the high seas for new adventures Accompanied by his young friend Tommy Stubbins and the beloved animals of his household - Polynesia the parrot, Jip the dog, and Chee-Chee the monkey - the good doctor is off to forbidding Spider Monkey Island to examine the rare jabizri beetle. But the mysterious island holds another, darker secret: The famous Indian naturalist, Long Arrow, has mysteriously disappeared - and Doctor Dolittle urgently needs to speak with him. Doctor Dolittle and his friends brave a shipwreck, find the floating island, and meet the incredible Great Glass Sea Snail - the keeper of the greatest mystery of all.We are happy to announce this classic book. Many of the books in our collection have not been published for decades and are therefore not broadly available to the readers. Our goal is to access the very large literary repository of general public books. The main contents of our entire classical books are the original works. To ensure high quality products, all the titles are chosen carefully by our staff. We hope you enjoy this classic.
Independently Published, 9798687524346, 250pp.
Publication Date: September 18, 2020