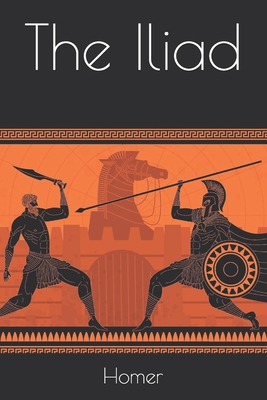 The Iliad
Paperback

* Individual store prices may vary.
Other Editions of This Title:
Paperback (7/26/2017)
Paperback (10/17/2010)
Paperback (1/4/2021)
Paperback (11/18/2011)
Paperback (5/22/2018)
Paperback (10/28/2020)
Paperback (11/24/2006)
Paperback (7/14/2020)
Description
Book Excerpt: ..but you must find me a prize instead, or I alone among the Argives shall be without one. This is not well; for you behold, all of you, that my prize is to go elsewhither."And Achilles answered, "Most noble son of Atreus, covetous beyond all mankind, how shall the Achaeans find you another prize? We have no common store from which to take one. Those we took from the cities have been awarded; we cannot disallow the awards that have been made already. Give this girl, therefore, to the god, and if ever Jove grants us to sack the city of Troy we will requite you three and fourfold."Then Agamemnon said, "Achilles, valiant though you be, you shall not thus outwit me. You shall not overreach and you shall not persuade me. Are you to keep your own prize, while I sit tamely under my loss and give up the girl at your bidding? Let the Achaeans find me a prize in fair exchange to my liking, or I will come and take your own, or that of Ajax or of Ulysses; and he to whomsoever I may come shall rue my coming. But of...
Independently Published, 9798687816946, 286pp.
Publication Date: December 31, 2020