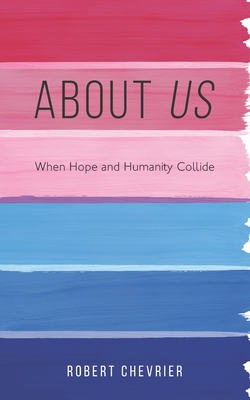 About Us
When Hope and Humanity collide
Paperback

* Individual store prices may vary.
Description
A young boy walks straight into a story book, as distinct stories slowly appear through the sensitive brushstrokes of the artwork drawn by his fellow classmates. FOREWORD CLARION REVIEW: Robert Chevrier's novel About Us is cheeky, flamboyant, and stuffed with musings on the nature of art and the universe. The characters' theatrical and oratorical exchanges become a manifesto.Swept up in its high-minded rhetoric and in the liquidity of its language, the novel doesn't try to be an accurate portrayal of its times. Its nine-year-old's trenchant philosophies and cultural commentaries strain credulity. Further, the book's messages of goodwill and respect for nature are hammered at in an overly relentless manner.KIRKUS REVIEWS: An intriguing but sometimes hazy tale of a young boy's education. Chevrier writes from the perspective of an adult looking back wistfully on his childhood. Unfortunately, the prose is so wistful that it becomes hard to follow: "But, on this day, on this glorious day, the airwaves of perception emanating from Sigmund's poster pinned on the back of our door proved that learning much faster than we could think was not restricted to just the little people of the world."The protagonist remains captivating throughout the story.BLUEINK REVIEW: The prose can be purple at the expense, sometimes, of comprehension, although there are lovely moments, as when the narrator, out biking one evening, says " I was] lucky enough to have the most beautiful sunset follow me home."The jaunty tone of these reflections blends wry amusement with the exasperation of a narrator weary "of violence, of racism and abuse of any kind," among other concerns. Nostalgia for the narrator's innocence in the "hippie era" --when "cool wasn't complicated" --is jarring when juxtaposed with bitter reflections on the present-day crises of coronavirus and climate change, especially considering the extreme turmoil of that earlier time.Readers who favor narrative and character development won't be won over, but those who like their philosophical musings mixed with whimsy may appreciate this friendly raconteur pondering "how and why was it that this beautiful world of ours, this only world of ours, remained so hostile, so violent, so upside-down for so lon.
Independently Published, 9798691172045, 110pp.
Publication Date: September 27, 2020