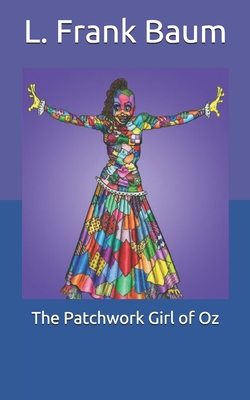 The Patchwork Girl of Oz
Paperback

* Individual store prices may vary.
Other Editions of This Title:
Paperback (8/31/2012)
Paperback (3/14/2013)
Paperback (5/1/2012)
Paperback (2/22/2020)
Paperback (10/22/2020)
Paperback (2/5/2021)
Paperback (9/25/2019)
Paperback (2/5/2021)
Paperback (1/8/2021)
Paperback (4/9/2013)
Paperback (2/22/2020)
Paperback (11/13/2017)
Paperback (9/17/2020)
Paperback (4/4/2020)
Description
JUST at dawn next morning Unc Nunkie laid his hand tenderly on Ojo's head and awakened him."Come," he said.Ojo dressed. He wore blue silk stockings, blue knee-pants with gold buckles, a blue ruffled waistand a jacket of bright blue braided with gold. His shoes were of blue leather and turned up at thetoes, which were pointed. His hat had a peaked crown and a flat brim, and around the brim was arow of tiny golden bells that tinkled when he moved. This was the native costume of those whoinhabited the Munchkin Country of the Land of Oz, so Unc Nunkie's dress was much like that ofhis nephew. Instead of shoes, the old man wore boots with turnover tops and his blue coat had widecuffs of gold braid.The boy noticed that his uncle had not eaten the bread, and supposed the old man had not beenhungry. Ojo was hungry, though; so he divided the piece of bread upon the table and ate his half forbreakfast, washing it down with fresh, cool water from the brook. Unc put the other piece of breadin his jacket pocket, after which he again said, as he walked out through the doorway: "Come."Ojo was well pleased. He was dreadfully tired of living all alone in the woods and wanted to traveland see people. For a long time he had wished to explore the beautiful Land of Oz in which theylived. When they were outside, Unc simply latched the door and started up the path. No one woulddisturb their little house, even if anyone came so far into the thick forest while they were gone.
Independently Published, 9798705370269, 208pp.
Publication Date: February 7, 2021