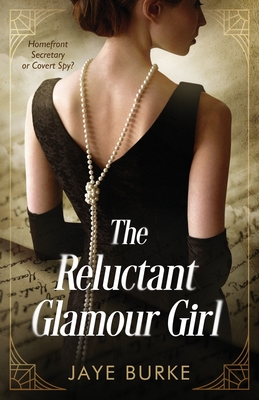 The Reluctant GLAMOUR GIRL
A Novella
Paperback

* Individual store prices may vary.
Description
Her life is going great guns, but World War II is raging. This girl's patriotic loyalty is about to be put to the test.
Polly Anna Morgan is young and sassy, swing music is killer-diller, and dance clubs are pure dynamite. But she has just been propositioned by her boss... and if she agrees, her life is about to change.
Atlanta, Georgia 1943

After two years of being a lowly file clerk at the law firm of Jones, Jones & Harbry, Polly Morgan has risen to the ranks of executive secretary to the young and handsome junior partner, Edmund Harbry. She is attractive, vibrant, and her idea of doing her part for the war effort is to become a junior hostess for the USO Mobile Service. However, her boss has a different plan in the works for her - one that will bring her into his top-secret world of war espionage.

The FBI instructs Harbry to choose a young woman to 'entertain' the alleged leader of the American Nazi Party and gain access into his inner circle. This woman must be attractive, intelligent, and she must also seduce one of the most dangerous men in the U.S. To Harbry, this woman is Polly Anna Morgan.

After learning the actual plan of so-called seduction, Polly gives the FBI a firm, "No dice " But will her romantic feelings for Mr. Harbry get in the way and cause her to reconsider?

But then Polly wonders, "Is this spy game really on the level?"

A message from JAYE BURKE:
THE RELUCTANT GLAMOUR GIRL was written for fans of light World War II espionage and intrigue, a touch of classic film noir along with recounting the tone of the Homefront during those trying times. This novella contains popular 1940s jargon, music references, and I hope you enjoy .
Independently Published, 9798705689095, 180pp.
Publication Date: May 6, 2021