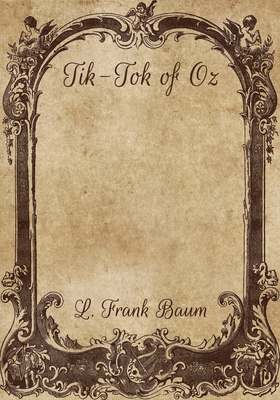 Tik-Tok of Oz
Paperback

* Individual store prices may vary.
Other Editions of This Title:
Paperback (4/14/1994)
Paperback (4/9/2015)
Paperback (5/27/2015)
Paperback (3/19/2017)
Paperback (4/4/2020)
Paperback (10/22/2020)
Paperback (5/21/2012)
Paperback (3/30/2020)
Paperback (11/13/2017)
Paperback (5/8/2018)
Paperback (2/25/2020)
Description
Queen Ann Soforth of Oogaboo, a small monarchy separated from the rest of Oz's Winkie Country, sets out to raise an army to conquer Oz. Seventeen men eventually make up the Army of Oogaboo; they march out of their valley. Glinda magically rearranges the path through the mountains and Queen Ann and her army march out of Oz into a low-lying, befogged country.Betsy Bobbin, a girl who is a year older than Dorothy Gale, and her loyal mule Hank have washed ashore during a storm. They arrive at a large greenhouse that is the domain of the Rose Kingdom, where the roses tell them that no strangers are allowed. Just as the Royal Gardener (apparently the only human allowed in this flowery kingdom) is about to pass sentence on Betsy and Hank, the Shaggy Man falls through the greenhouse's roof, and charms the Gardener into sparing all of their lives with his Love Magnet. The flowers, not having hearts, are unaffected by the Magnet, and force the travelers to leave, taking with them the newly plucked Rose Princess Ozga, a cousin of Ozma, the ruler of Oz.
Independently Published, 9798707506512, 200pp.
Publication Date: February 11, 2021