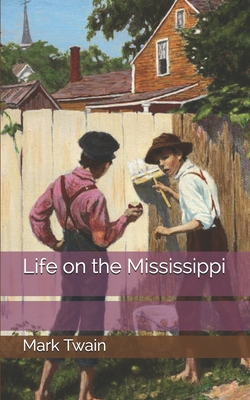 Life on the Mississippi
Paperback

* Individual store prices may vary.
Other Editions of This Title:
Paperback (7/18/2019)
Paperback (1/14/2017)
Paperback (9/1/2004)
Paperback (1/6/2017)
Paperback (3/10/2017)
Paperback (4/3/2021)
Paperback (3/16/2017)
Paperback (6/29/2020)
Paperback (8/7/2018)
Paperback (1/23/2015)
Paperback (12/14/2020)
Paperback (2/18/2018)
Paperback (1/31/2017)
Paperback (2/14/2014)
Paperback (3/24/2015)
Paperback (2/27/2017)
Paperback (8/15/2018)
Description
An article in the New Orleans 'Times-Democrat, ' based upon reports of able engineers, states thatthe river annually empties four hundred and six million tons of mud into the Gulf of Mexico-which brings to mind Captain Marryat's rude name for the Mississippi-'the Great Sewer.' Thismud, solidified, would make a mass a mile square and two hundred and forty-one feet high.The mud deposit gradually extends the land-but only gradually; it has extended it not quite athird of a mile in the two hundred years which have elapsed since the river took its place in history.The belief of the scientific people is, that the mouth used to be at Baton Rouge, where the hillscease, and that the two hundred miles of land between there and the Gulf was built by the river.This gives us the age of that piece of country, without any trouble at all-one hundred and twentythousand years. Yet it is much the youthfullest batch of country that lies around there anywhere.The Mississippi is remarkable in still another way-its disposition to make prodigious jumps bycutting through narrow necks of land, and thus straightening and shortening itself. More than onceit has shortened itself thirty miles at a single jump These cut-offs have had curious effects: they havethrown several river towns out into the rural districts, and built up sand bars and forests in front ofthem. The town of Delta used to be three miles below Vicksburg: a recent cutoff has radicallychanged the position, and Delta is now two miles above Vicksburg.
Independently Published, 9798709566477, 498pp.
Publication Date: February 15, 2021