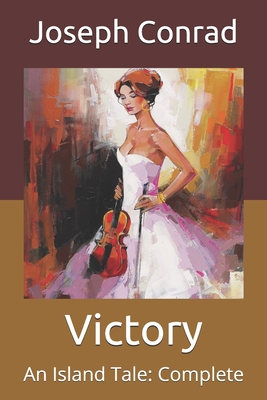 Victory
An Island Tale: Complete
Paperback

* Individual store prices may vary.
Other Editions of This Title:
Digital Audiobook (4/21/2011)
Paperback (1/21/2021)
Paperback (3/31/2017)
Paperback (10/7/2019)
Paperback (7/16/2020)
Paperback (2/17/2021)
Paperback (5/7/2012)
Paperback (5/29/2020)
Paperback (4/9/2015)
Paperback (7/23/2020)
Paperback, Spanish (1/7/2013)
Paperback (11/12/2018)
Description
Human nature being what it is, having a silly side to it as well as a mean side, there were not a fewwho pretended to be indignant on no better authority than a general propensity to believe every evilreport; and a good many others who found it simply funny to call Heyst the Spider-behind hisback, of course. He was as serenely unconscious of this as of his several other nicknames. But soonpeople found other things to say of Heyst; not long afterwards he came very much to the fore inlarger affairs. He blossomed out into something definite. He filled the public eye as the manager onthe spot of the Tropical Belt Coal Company with offices in London and Amsterdam, and otherthings about it that sounded and looked grandiose. The offices in the two capitals may haveconsisted-and probably did-of one room in each; but at that distance, out East there, all this hadan air. We were more puzzled than dazzled, it is true; but even the most sober-minded among usbegan to think that there was something in it. The Tesmans appointed agents, a contract forgovernment mail-boats secured, the era of steam beginning for the islands-a great stride forward-Heyst's stride And all this sprang from the meeting of the cornered Morrison and of the wandering Heyst, which may or may not have been the direct outcome of a prayer. Morrison was not an imbecile, buthe seemed to have got himself into a state of remarkable haziness as to his exact position towardsHeyst. For, if Heyst had been sent with money in his pocket by a direct decree of the Almighty inanswer to Morrison's prayer then there was no reason for special gratitude, since obviously he couldnot help himself. But Morrison believed both, in the efficacy of prayer and in the infinite goodnessof Heyst. He thanked God with awed sincerity for his mercy, and could not thank Heyst enough forthe service rendered as between man and man. In this (highly creditable) tangle of strong feelingsMorrison's gratitude insisted on Heyst's partnership in the great discovery. Ultimately we heard thatMorrison had gone home through the Suez Canal in order to push the magnificent coal ideapersonally in London. He parted from his brig and disappeared from our ken; but we heard that hehad written a letter or letters to Heyst, saying that London was cold and gloomy; that he did not likeeither the men or things, that he was "as lonely as a crow in a strange country." In truth, he pinedafter the Capricorn-I don't mean only the tropic; I mean the ship too. Finally he went intoDorsetshire to see his people, caught a bad cold, and died with extraordinary precipitation in thebosom of his appalled family. Whether his exertions in the City of London had enfeebled his vitalityI don't know; but I believe it was this visit which put life into the coal idea. Be it as it may, theTropical Belt Coal Company was born very shortly after Morrison, the victim of gratitude and hisnative climate, had gone to join his forefathers in a Dorsetshire churchyard.
Independently Published, 9798710092606, 218pp.
Publication Date: February 17, 2021