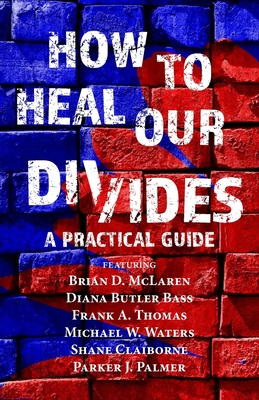 How to Heal Our Divides
A Practical Guide
Paperback

* Individual store prices may vary.
Description
Our country has become quite polarized - what do we do about it? Recent times have put a spotlight on the deep divisions in our society. Much has been written that acknowledges and describes racial, political, religious, and other divides, but there is little practical information on what we can do about them. How to Heal Our Divides features organizations that are taking real action to address these issues and heal divides in effective and practical ways. See how you can help make the world a better place. Reviews "There is much love expressed in this book, made all the more potent by the presence of real, brave, and beautiful struggle alongside it. May the stories and reflections gathered in this volume aid us all on our rocky path towards peace."
- Frederick Buechner "Jesus' final prayer with his disciples (John 17) asked for one thing: that we his followers demonstrate a profound unity that will both convict and attract the watching world. In this time of deep division, this book shows how to do exactly that."- Philip Yancey, author of "What's So Amazing About Grace" "Creed and community remind me that changing habits is hard, and practicing solidarity involves wrestling with my own failures. But, with the help of others, each one of us can mend the fault lines in our own lives and lend our hands to repair the world. Read these essays and discover you are not alone. You have friends, co-workers, mentors, and guides for the way." - Diana Butler Bass, author of "Freeing Jesus" "Grateful" and "Grounded" "A brilliant and loving collection of real stories, "How to Heal Our Divides" shows what brave, humble people are doing all over the world to heal hurt and build bridges to restoration and peace. With inspiration on every page--written by some of the world's most renowned authors--here's a source of hope and healing that arrives just when we need it most." - Patricia Raybon, award-winning author of "My First White Friend" and "Undivided" "This volume brings together a diverse team of creative practitioners of un-division. All of these practitioners are translating peace-making theory into practice on the street, in the neighborhood, and in the human heart. Not only that, but they are developing and revising theory through their practice. That's what makes each contribution so powerful."- Brian McLaren, author of "Faith After Doubt: Why Your Beliefs Stopped Working and What to Do About It" "For twenty-five years, the Center for Courage & Renewal has helped people reclaim the wholeness that is everyone's birthright gift, so they can bring their identity and integrity more fully into their personal, vocational, and public lives. I am happy to participate in 'How to Heal Our Divides' to come alongside other organizations working with similar goals."- Parker J. Palmer, Founder and Senior Partner Emeritus of the Center for Courage & Renewal "A vast book of diverse and accessible ideas the world needs right now "- Mark Schaefer, author of "Cumulative Advantage" "Filled with strong and hopeful voices, How to Heal Our Divides is a book that recognizes it will take more than a Kumbaya moment to bring wholeness to our society. It does the hard work of bringing civil discourse to the page in a way that shows us it is possible to talk even when we don't agree. The healing will begin from there." - Sophfronia Scott, author of "The Seeker and the Monk: Everyday Conversations with Thomas Merton" "Projects like the ones in this book are healing the world. My own work as an activist has been shaped by stories like the ones in this book. This is holy work we are doing. It begins with humility."- Shane Claiborne, leader of Red Letter Christians.
Independently Published, 9798745784286, 270pp.
Publication Date: May 9, 2021