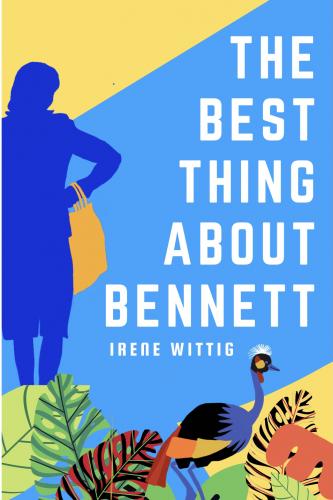 The Best Thing About Bennett
Paperback

* Individual store prices may vary.
Description
Forced into early retirement, Bennett Hall plans for a quiet, orderly, and anonymous existence. No longer will she be burdened by her dependent but unlovable aunt, or her own misperceived rejections.

Unexpected encounters and a new job crack open her social isolation. The arrival of Joe Muir, an attractive widower, and his two adopted Ugandan children, awaken Bennett's long-ignored desires--and self-doubts. 

Inspired to win Joe's love she flies to Uganda in search of the children's missing sister. To overcome the dangers and challenges she confronts, she must find the courage she has always lacked.

Praise For The Best Thing About Bennett…
Endearing and inspirational contemporary fiction. I would give this book more than five stars if I could!
Themes include love, friendship and global travel. What I found most endearing and inspirational is the deep respect and joyous value for senescence and diversity. I recommend the book to anyone who perceives middle age as the beginning of the end. This story illustrates that your spirit of life is your vantage point, at any age. Reedsy Discovery

The Best Thing About Bennett by Irene Wittig is such a beautiful story with many subtle but powerful life lessons weaved throughout. A highly compelling novel that will keep your interest until the final page. Irene Wittig has found inspiration in the many aspects of her life. Readers Favorite

Independently published, 9798746367600, 372pp.
Publication Date: May 10, 2021
About the Author
Irene Wittig has found inspiration in the many aspects of her life.
Her immigrant experiences and memories of her Viennese family inspired the historical novel ALL THAT LINGERS.
Her husband's anti-corruption work in Uganda, and her own experiences volunteering at an orphanage during a visit there, inspired a portion of THE BEST THING ABOUT BENNETT.
Thoughts and memories inspired her book of short stories with a twist SHORT TALES AND RUMINATIONS.
Her art and art history education, and her many years as a ceramic painter led to publication of THE CLAY CANVAS and the later updated and revised CREATIVE PAINTING ON EVERYDAY CERAMICS
Her love of language and design led to her whimsically illustrated AN AMUSING ALPHABET for preschoolers.
Further information on these books can be found on her website
https://all-that-lingers.com
or
Not Currently Available for Direct Purchase