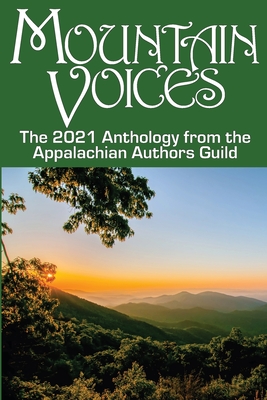 Mountain Voices
2021 Anthology from the Appalachian Authors Guild
Paperback

* Individual store prices may vary.
Description
Join the Appalachian Authors Guild on a journey through the remarkable variety of our Mountain Voices Featuring poetry, essays, and fiction spanning many genres, this anthology takes you on a trip across our beautiful Appalachian Mountains and beyond.Jason A. Adams, Cyrus Alderwood, Mary Ann Artrip, Bobbie Cyphers, Adda Leah Davis, Victoria Fletcher, O.R. Frazier, Linda Hoagland, Jason C. Houghton, T. Byron Kelly, Kari Kilgore, Rose Klix, Amy-Ellen Laws, Damean Mathews, Gina McKnight, Bunny Medeiros, Ellen Myatt, Sylvia Nickels, Delilah O'Haynes, J. Adam Perkey, Betty Jamerson Reed, Rachel Riggsby, Madelyn Rohrer, Tammy Robinson Smith, M. Lynne Squires, Daniel C. Swanson, Connie Wohlford, Lauvonda Lynn Young.
Independently Published, 9798748227728, 324pp.
Publication Date: May 9, 2021