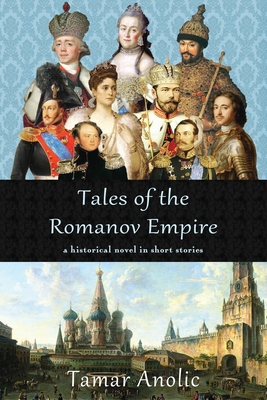 Tales of the Romanov Empire
Paperback

* Individual store prices may vary.
Description
Tales of the Romanov Empire has been short listed for the Goethe Book Awards for Late Historical Fiction It was also Long listed for the Historical Fiction Company's Book of the Year Awards. "Tales of the Romanov Empire is an impressive historical epic novel that chronicles slightly over 300 years of Russian history in short vignette chapters... Anolic's prose is polished, elaborate, and gorgeously descriptive overall.... Tales of the Romanov Empire is a bold, innovative project that compellingly overviews more obscure history, like manipulative bride shows, alongside more well-known material like Russia's dealings with Napoleon. Anolic also has a real knack for imaginative reveals and inserting surprisingly timely elements into the narrative." -The BookLife Prize "Each tale, or vignette, is done in a clever way, with rich, enticing prose which sweeps a reader into the effluent and sometimes turbulent world of Russian nobility... This book is very educational, giving slices of the Romanov's lives and leading a reader by the hand through time without the passage of time feeling jarring or unsatisfying as each story closes and a new one begins. Rather, you are intrigued to do a little research on your own to look further into the different episodes, and Ms Anolic's skill as a researcher shines forth in the way she combines the history with the storytelling with such ease. Along with some wonderful scene setting... for this enjoyable read, Ms. Anolic's book takes us on a wintry journey into the Russian past and soul." -The Historical Fiction Book Company's review Stories you've never heard about the Romanovs.... Tales of the Romanov Empire is a novel in short stories that examines one of history's most successful dynasties. The Romanovs were Russia's absolute monarchs from 1613 until 1917. Yet, beyond the glittering wealth and tragic love story of Nicholas and Alexandra, much of the dynasty remains shrouded in mystery. Tales of The Romanov Empire sheds light on the Romanovs' unknown figures, from the election of Mikhail Feodorovich, the first Romanov tsar, to the bride shows that were staged to help Tsar Alexei find a wife. Grand Duke Konstantin, the Romanovs' famous poet, comes to life as he and his favorite cousin, Grand Duke Sergei, examine their ideals and their sexuality in a world that is hostile to them. All the while, as the empire's Jews struggle amidst the Romanovs' pogroms, many make the decision to flee to the freedom of the United States- these stories in particular are based on the author's own family history. This novel contains stories of war, stories of personal gifts and choices bent to an autocratic ideal. In their telling, the vast human cost of absolute power- on both the oppressors and on the oppressed- becomes clear.
Independently Published, 9798779580656, 242pp.
Publication Date: January 21, 2022