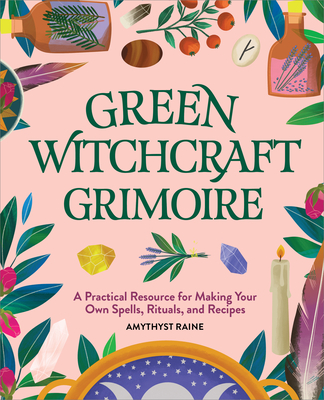 Green Witchcraft Grimoire
A Practical Resource for Making Your Own Spells, Rituals, and Recipes
Hardcover

* Individual store prices may vary.
Other Editions of This Title:
Paperback (7/14/2020)
Description
Harness the magical power of nature with this reader-friendly guide to green witchcraft
As the old saying goes, "there's magic in the green." And it's true. The Green Witchcraft Grimoire is the perfect guide for budding green witches who want to harness the magical powers of plants, herbs, and other natural materials to improve every area of their life.
Author and practicing witch Amythyst Raine has put together a fun, easy-to-navigate grimoire journal filled with spells, rituals, and recipes that will become your constant magical companion and a cherished keepsake.
This essential spell book will help you explore the sacred art of green witchcraft using:
Basic knowledge like how and why to cast a green circle, which tools you'll need, and more
Spells for seasons, weather, astronomical events, and moon cycles
Spells and rituals using crystals, candles, and incense
Remedies, balms, tinctures, teas, and sacred recipes
Rituals and ceremonies for love
Astrological signs and celestial spells
Sigils, scrying mirrors, and crystal balls
Handcrafts, charms, and natural materials
You also get helpful descriptions of moon phases, lists of essential herbs and supplies for a witch's kitchen, and pages to write down your notes and reflections.
Learn the ways of the green witch and tap into the power of the natural world with the Green Witchcraft Grimoire.
Praise For Green Witchcraft Grimoire: A Practical Resource for Making Your Own Spells, Rituals, and Recipes…
"Green Witchcraft Grimoire is an excellent starting point for those wishing to learn more about working with the natural world in spellcraft. Raine details not only ingredients and tools but also ways to use those items to achieve a specific objective. Intended to be a book that is referred to time and time again, she leaves plenty of space for writing personal notes. Highly recommended!" —Deborah J. Martin, Author of Herbs: Medicinal, Magical, Marvelous!, A Green Witch's Formulary, and other books

"Finally, someone gets it! From novice to expert, this wonderful grimoire will demystify the perceived complications of walking your unique path no matter your affinity. Its simple, clear, and soulful use of your spiritual time, with solid information on the foundations of spiritual crafting, is a combination not to be missed. My new go-to for my magical path. Bravo Amythyst Raine." —Onyx Moon Blackstone, witch and founder of Something Wytchy

"I've practiced witchcraft, in independence and gathering from the many traditions of our multiple ancestors, for more than 30 years. When I began my personal journey into the past to anchor my own search with Earth-based spiritual expressions, my good friend on pages was Scott Cunningham. Amythyst's grimoire has the foundational information and guidance Cunningham brought to our community so long ago. Elementary flow, inspiration to grow! Amythyst gives a witch the basic tools for growth and an awareness that helps to provide the window within where witchcraft waits to be expressed." —Gwendolyn H. Barry, blender and owner, Daughters of Isis

"From spells to salves, tinctures to teas, rituals to recipes, Amythyst Raine's Green Witchcraft Grimoire offers initiates a straightforward blueprint for incorporating both organic and celestial magic into modern living. Candle correspondences, kitchen supplies list, solstice celebrations, sun sign manifestation, crystal charging tips, an esbat full moon chart, sigil creation, sacred wood selection—it's all here. Any novice dedicated to harnessing natural resources for practical witchcraft will find an accessible guide in Green Witchcraft Grimoire." —Janet Boyer, author of Back in Time Tarot, Tarot in Reverse, and Naked Tarot

"Green Witchcraft Grimoire is a fun and easy-to-navigate collection of spells, rituals, and recipes inspired by global Pagan practices, both ancient and modern. For witches who are drawn to recycling, sustainability, and reverence for Mother Earth, this book makes a great addition to your collection!" —Raven Digitalis, author of Esoteric Empathy and Shadow Magick Compendium
Rockridge Press, 9798886504521, 194pp.
Publication Date: September 13, 2022
About the Author
Amythyst Raine is an author, professional tarot reader, and a practicing witch. She lives and works in the Sonoran Desert in Arizona.