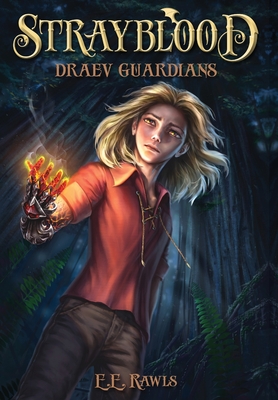 Strayblood
Draev Guardians
Hardcover

* Individual store prices may vary.
Other Editions of This Title:
Paperback (12/1/2021)
Description
"I am the rescuer of the weak. The hope of those who have none. And the executioner of vempar kind. I am the White Ghost-and your worst nightmare."
With the events of the Festival Duel over, Cyrus wants to focus on training her Ability with metal. But trouble soon comes in the form of a shapeshifter: the White Ghost, who's determined to exterminate all vempar kind, and he's seeking the power of the Swan Princess in order to carry out his plan.
Seriously, why can't people just leave Cyrus alone? She doesn't want to be the Swan, some reborn hero from legend She just wants to be with her friends and train to become a Draev Guardian. Is that too much to ask for?
Apparently, it is. The Oracle, who happens to be a faeryn child, can lead the Ghost right to her-and the Impure Nights, as well. Harlow must keep the Oracle safe, but with the Academy's yearly Hunters Race coming up, things get even more complicated. The Scourgeblood in Aken's veins is awakening, and to face the powerful shapeshifter, Cyrus's fellow Draevs-in-training may have to pay the ultimate price...
Dive into the sequel of the fantasy coming of age series: Draev Guardians, where elemental magic reigns and monsters lurk, and where you can get a delicious latte. Similar to books like Percy Jackson, Harry Potter, and Narnia. See Strayborn (book #1) for where the adventure begins
A series for upper middle graders, teens, and adults.
Begin the adventure:
Dive into a story of adventure, heart, and mysteries to unravel.
Explore a vivid world of fantastical kingdoms, elemental powers, cultures, and humanoid races from folklore.
Meet relatable and misfit characters you will fall in love with.
Experience intrigues, battles and epic fight scenes.
Enjoy humor, suspense, dangers, trials, and teamwork within an epic fantasy world.
About this series:
Genre: Epic fantasy, action & adventure, coming of age, christian, fantasy & magic.
Audience: Middle-grade, teen, young adult, adult.
Setting: Our world's twin planet, full of elements of fantasy.
Reader age: 11+
Explicit language: None.
Completeness: An ongoing series.
Similar or influenced by: Lord of the Rings, Percy Jackson, Harry Potter, Narnia, Mistborn...
Books in the Draev Guardians series:
#1 Strayborn
#1.5 Dragons and Ravens
#2 Strayblood
A series that will touch your heart, make you laugh and cry, and adventure that will keep you gripped
Storyteller Wings Press, 9798985239201, 390pp.
Publication Date: December 1, 2021