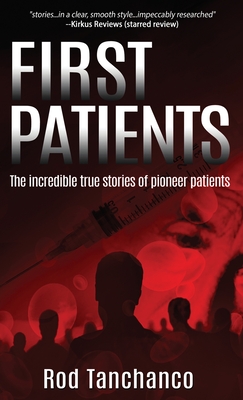 First Patients
The incredible true stories of pioneer patients
Hardcover

* Individual store prices may vary.
Other Editions of This Title:
Paperback (3/8/2022)
Description
What was it like to be that patient caught in a medical crisis that sparked a medical milestone? First Patients reads with the pace and excitement of a top-notch medical thriller, providing an enthralling view into the history of medicine and revealing the extent of human inventiveness, resilience, and compassion. This book is a collection of such stories, each chapter an enthralling view into the history of medicine, revealing the extent of human inventiveness, resilience, and compassion.
- What compelled U.S. Army doctors to infect themselves with yellow fever virus?
- How did an English farmer become the first smallpox vaccinator?
- What led to the first human-to-human blood transfusion in the eighteenth century?
- Who was the first boy to be revived by a defibrillator, and how did that lead to the launch of CPR?
- Could a woman force cautious doctors to implant a new, untested pacemaker in time to save her husband's life?
- How did a fifteen-year-old boy become a victim of AIDS in 1968, decades before the virus even had a name?
Most readers will recognize these renowned health solutions. What makes this book so compelling is how the cases that prompted such groundbreaking innovations have considerably affected longevity and quality of human life for generations.
Praise For First Patients: The incredible true stories of pioneer patients…
"Tanchanco tells their stories…in a smooth, clear style that's impeccably researched…devoid of potentially off-putting clinical jargon. That approach makes this book ideal reading for anyone intrigued by medical innovations."
—Kirkus Reviews (starred review)

"Like the very best narrative non-fiction writers, Tanchanco is gifted with a prose style that provides clarity of information with the flow of a novelist…
FIRST PATIENTS--clearly written and beautifully presented--arrives as a particularly absorbing account of historic scientific success that serve to highlight the continued evolution of medicine and the advancement of science."—IndieReader(5-star review)

"Tanchanco is a captivating writer, and his research into each medical discovery is thorough but always presented with vivid, polished storytelling that will engage readers from the start. Fans of medical history will find these stories highly compelling"
—BookLife

"By centering on the people who lived through terrifying procedures and suffered from unknown diseases, the book contextualizes medicine for all. First Patients is a captivating medical history that deals with a subject too often forgotten: the patients whose bravery made today's scientific advancements possible."
—Foreword Clarion Review

"Highly recommend. Dr. Rod Tanchanco has accomplished a rare feat; he has written a history of scientific and medical discovery that privileges the human dimension of discovery, that is, the personal stories, the emotions, the motivations, and aspirations that led men and women to seek out new treatments for diseases..."—Kimba Tichenor, PhD, author of Religious Crisis and Civic Trans-formation

"Excellent work"—Gero Hütter, MD PhD, physician responsible for the world's first successful case of HIV cure.

First Hawk Publishing, 9798985393729, 370pp.
Publication Date: March 8, 2022
About the Author
Rod Tanchanco writes medically themed nonfiction focused on historical events and their human narratives. His articles have appeared in Time.com, TheAtlantic.com, History News Network, Intima, Medical Economics, and KevinMD.com. He is an internist and has worked as a primary care physician, hospitalist, research doctor, and medical director for global healthcare organizations.
He is also a champion archer, avid photographer, back-yard birdwatcher, husband to a saint, father to two grown children, and loyal butler to a ridiculously cute cavapoo.
Check his blog at first-patients.com.
Find him on Twitter: @rodtmd; Goodreads.com; and Bookbub.com.