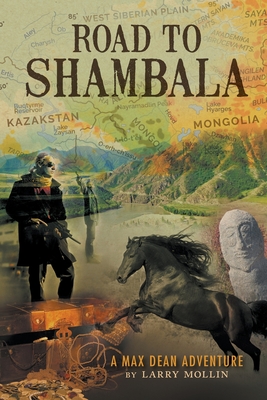 Road to Shambala
Paperback

* Individual store prices may vary.
Description
Max Dean, the blissfully retired private detective, writer, and music biz, security consultant, is thrust into a perilous search for his new wife's reckless mother. Teresa holds the secret to the location of Shambala, an underground valley of eternal life. In the Altai Mountains on the border between Kazakhstan, Mongolia and southern Siberia, Max is not the only one after his unscrupulous, mother-in-law. A dying Siberian, mining titan with the money to move mountains and a rogue army, is more determined than ever to find Teresa and the fabled treasure of Genghis Khan. On the journey to Shambala, Max is aided by an ancient Kazak, his wife's philandering, first-husband, a local, lady pugilist and an ex-rock and roll roadie, smuggler king. Madness ensues as another Max Dean adventure tale blazes across continents and a millennium or two.
Before moving to Los Angeles, Larry Mollin was a playwright and Artistic Director of Toronto, Canada's Homemade Theatre, a seminal performance group of the 1970's. Transitioning to Hollywood he became a writer and producer of Prime Time TV for over 30 years beginning with CHiPs. He's best known for his work on Beverly Hills, 90210 for which he wrote and produced one-hundred twenty-eight hours from 1993-1998 the zenith of the show's success. Larry returned to the theatre world in 2012 with a 1960's-themed trilogy of plays produced in New York City, London and Martha's Vineyard. Turning to long form, Road to Shambala is Larry's third novel in the Max Dean adventure series. Besides also being a published poet and songwriter, Larry is the co-host of the internationally popular podcast, The Beverly Hills 90210 Show.
MindStir Media, 9798985400007, 272pp.
Publication Date: January 4, 2022