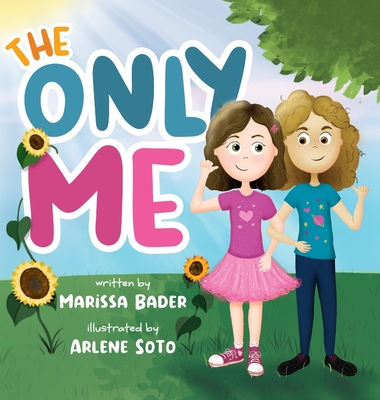 The Only Me
Hardcover

* Individual store prices may vary.
Description
Be the best you
Stella and Paige are 7-year-old fraternal twins who don't look alike and have very different personalities and interests. Yet even so, people constantly compare them or comment about how strange it is that they're not more similar. This has Stella feeling frustrated. They may be twins, but that doesn't make them the same person.
Stella wishes people would see her for who she is, and not just as "Stella and Paige" or as "one of the twins." All of the comparing and contrasting leaves Stella confused about her own identity-who is she outside of her sibling relationship? She also wonders if perhaps she doesn't measure up to her sister, Paige.
Can Stella find a way to accept and value herself for who she is, and realize that she and Paige can each be their own, special and unique people, and still be twins?
Perfect for kids are trying to find where they belong.
Teaches the importance of honoring, accepting and celebrating our differences and unique selves in all kinds of relationships.
Great resource to help young readers with feelings of value and worth.
Helpful for kids struggling with identity and self-esteem challenges.
Ideal for ages 4-10
Some Reviews of The Only Me:
"This book is so fabulous to point out that we are all unique and different in our own special way. Truly such a helpful book for young readers to understand we are all different, we all have our strengths and that our kids can shine in their own special light. I love how this book also teaches young readers of acceptance, inclusion, confidence and growth. Very well written and a positive message and reminder to all " - Sarajane, parent of two daughters
"The Only Me is a sweet story about a girl named Stella exploring her identity and finding her strengths. As a twin, she feels like she is constantly compared to her sister and sometimes feels less than. She realizes that she has her own identity and with that her own special gifts to offer the world. Kids of all ages will see parts of themselves in her and will love reading this story. Her voice sounds like any young child's and will be relatable for many little ones. A great story with a great lesson." - Dana, parent and teacher
"Marissa Bader's book, The Only Me, is the ultimate endorsement for embracing difference and celebrating children's unique selves."
- Kathleen West, Author
"A beautifully written, kid-friendly story that so eloquently reminds all of us of our own extraordinary uniqueness. It's a book that I could read over and over to both my children and for myself -- empowering humans of all ages to celebrate and embrace our differences." - Michelle, parent and Licensed Marriage and Family Therapist
Marissa Bader, 9798985768107, 36pp.
Publication Date: August 22, 2022