Dreaming for Freud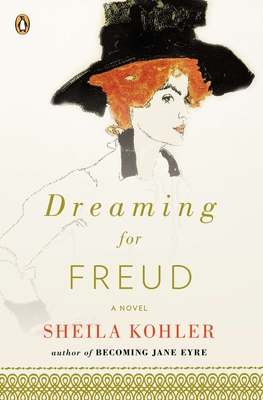 Dreaming for Freud
Penguin Books, Paperback, 9780143125198, 232pp.
Publication Date: May 28, 2014
* Individual store prices may vary.
Buy at Local Store
Enter your zip code below to purchase from an indie close to you.
or
Buy Here
Description
An award-winning author reimagines one of Freud's most famous and controversial cases
Acclaimed for her spare prose and exceptional psychological insights in her novels "Becoming Jane Eyre" and "Love Child," Sheila Kohler's latest is inspired by Sigmund Freud's "Dora: An Analysis of a Case of Hysteria." "Dreaming for Freud" paints a provocative and sensual portrait of one of history's most famous patients.
In the fall of 1900, Dora's father forces her to begin treatment with the doctor. Visiting him daily, the seventeen-year-old girl lies on his ottoman and tells him frankly about her strange life, and above all about her father's desires as far as she is concerned. But Dora abruptly ends her treatment after only eleven weeks, just as Freud was convinced he was on the cusp of a major discovery. In "Dreaming for Freud," Kohler explores what might have happened between the man who changed the face of psychotherapy and the beautiful young woman who gave him her dreams.
About the Author
Sheila Kohler was born in Johannesburg, South Africa. She later lived in Paris for fifteen years, where she married, completed her undergraduate degree in Literature at the Sorbonne, and a graduate degree in Psychology at the Institut Catholique. She moved to the U.S. in 1981 and earned an MFA in Writing at Columbia. She is the author of thirteen works of fiction, including the novels Becoming Jane Eyre and Cracks, which was nominated for the IMPAC Dublin Literary Award and made into a film starring Eva Green. Her work has been featured in the "New York Times, O Magazine" and included in the Best American Short Stories. She has twice won an O'Henry Prize, as well as an Open Fiction Award, a Willa Cather Prize, and a Smart Family Foundation Prize. Kohler teaches at Princeton University and lives in New York City.
Praise For Dreaming for Freud…
Praise for Dreaming for Freud:

"Sheila Kohler is a gifted story teller, as this her latest attests.  Dreaming for Freud is well-crafted, depicting two great, strong-willed characters: the forty-five year old Sigmund Freud and the feisty seventeen-year-old patient he made famous as Dora.  Kohler reveals her secrets slowly, layer by layer, teaching us much about the early days of Freud's 'talking cure.'  Like any good mystery writer, she keeps us suspended until the very end.  This is a compelling and very satisfying read."—Selden Edwards, New York Times bestselling author of The Little Book
 
 "Sheila Kohler has written a slyly subversive, subtle and sensuous revisionist interpretation of Sigmund Freud and his iconic Dora case that might be subtitled 'The Analyst Analyzed.'"—Joyce Carol Oates, New York Times bestselling author of We Were the Mulvaneys

"Freud's insecurities, frustrations, self-absorption and longing...are sensitively evoked, as are Dora's internal conflicts. As both the patient's and the doctor's vulnerabilities are exposed, the very nature of a person's 'story' is called into question."—Kirkus
 
"In this meticulously researched novel, Kohler infuses Freud's case report of his analysis of Dora with a richly imagined, entirely credible reading between the lines. Her effortless  prose is powerfully evocative of the characters, the times, and the essence of the unique relationship that we call psychoanalysis."—David I. Joseph, M.D., George Washington Department of Psychiatry and Behavioral Sciences

"Known for her expressive writing and insightful explorations of her characters' inner lives, Kohler is the ideal novelist to relate the story of Sigmund Freud and his best-known patient, the pseudonymous Dora....With delicate precision, Kohler traces their ongoing dynamic."—Booklist

"The sensual prose re-creates bourgeois 1900s Vienna and surrounding mountain resorts with a seductive lushness that draws the reader in. The author's deftly perceptive characterizations, meanwhile—a nuance here, a reference there—create alternately sympathetic and frustrated reactions to both the patient and the doctor....Kohler's intelligent novel will be very much enjoyed by fans of Karen Mack and Jennifer Kaufman's Freud's Mistress."—Library Journal

"[The] pages of absorbing prose turn themselves, as we read through the lies, betrayal, and, of course, sex....An inventive piece of reimagining."—Publishers Weekly

Praise for Sheila Kohler's work:

"Kohler is undoubtedly a talent to watch." – Vogue
 
"Hypnotic…unsettling…a combination of domestic drama and psychological thriller." – San Francisco Chronicle
 
"Erotic and disturbing." – Vanity Fair
 
"Riveting…. Kohler's writing is so smoothly confident and erotic that she has produced a tale resonant with a chilling power all its own" – Elle
 
"Spare, haunting" – Marie Claire
 
"A real master of narrative." – Kirkus
 
"Her themes of displacement and alienation cut to the heart as she quietly strips away the tales we tell ourselves in order to go on from day to day." – Booklist
 
"There is a territory – fictional and psychological – that Sheila Kohler has now marked as her own. It is a real achievement. I am full of admiration." – J.M. Coetzee
 
"Sheila Kohler's timeless stories are always transporting. The elegance of her writing underscores the charged, disturbing behavior she presents so vividly." – Amy Hempel
 
"I was absolutely enthralled reading Sheila Kohler's latest collection. Her stories are elegant, smooth, and gorgeously sensual, belying the tension that crackles beneath. Long after I've finished reading one of her stories, the image continues to pulse." – Amy Tan
 
"Compelling and beautifully nuanced." – Elizabeth Strout