40 Years of Chez Panisse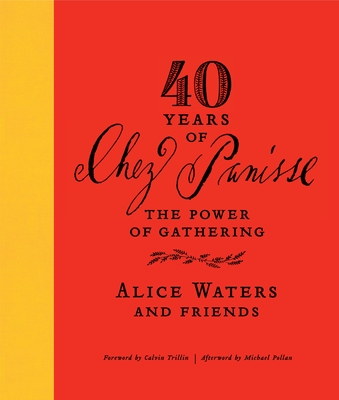 40 Years of Chez Panisse
The Power of Gathering
Clarkson Potter Publishers, Hardcover, 9780307718266, 304pp.
Publication Date: August 23, 2011
* Individual store prices may vary.
Buy at Local Store
Enter your zip code below to purchase from an indie close to you.
or
Buy Here
Description
Chez Panisse opened its doors in 1971. Founded by Alice Waters, the restaurant is rooted in her conviction that the best-tasting food is organic, locally grown, and harvested in ecologically sound ways by people who are taking care of the land for future generations. The quest for such ingredients has always determined the restaurant's cuisine, and, over the course of forty years, Chez Panisse has helped create a community of local farmers and ranchers whose dedication to sustainable agriculture assures the restaurant a steady supply of fresh and pure ingredients.
In "Forty Years of Chez Panisse: The Power of Gathering, " Alice takes readers on her journey from the humble and visionary beginnings of the restaurant, through its rise and the acclaim, to the CafE and the influential Chez Panisse Foundation. Organized by decade, the book includes a wealth of archival material and photographs--menus; invitations; pictures of Alice at the restaurant and around the world, with those who have passed through her life--and interviews from public figures and cooks who have been inspired by or mentored at the restaurant.
This tribute to the delicious food revolution that began with Alice Waters and Chez Panisse is an important work for anyone who cares about food, sustainability, and the powerful legacy that Alice has built.
About the Author
Janet Fletcher is a Bay Area-based cookbook author.

Sandor Ellix Katz is a self-taught fermentation experimentalist. He wrote Wild Fermentation: The Flavor, Nutrition, and Craft of Live-Culture Foods--which Newsweek called "the fermenting bible"--in order to share the fermentation wisdom he had learned, and demystify home fermentation. Since the book's publication in 2003, Katz has taught hundreds of fermentation workshops across North America and beyond, and authored The Art of Fermentation (2011) and the instructional DVD Fermentation Workshop with Sandor Ellix Katz (2010). A native of New York City, he now gardens, saves seeds, tends goats and chickens, and produces biodiesel from used fry oil in an off-the-grid community in the hills of Tennessee.

Calvin Trillin is the author of twenty books, including "Family Man" (FSG, 1998) and "Messages from My Father "(FSG, 1996). He writes a weekly column for "Time" and a weekly poem for" The Nation". He lives in New York City.
Monday, Aug 22, 2011
Waters founded her Berkeley restaurant, Chez Panisse, long before "organic" or "locally grown" entered the vernacular. In 40 Years at Chez Panisse, Waters looks back on the sustainable food movement and the momentum it has built in recent years. More at NPR.org