Happiness Is an Inside Job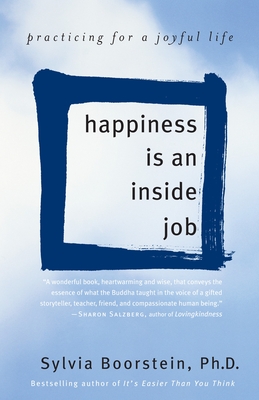 Happiness Is an Inside Job
Practicing for a Joyful Life
Ballantine Books, Paperback, 9780345481320, 164pp.
Publication Date: December 30, 2008
* Individual store prices may vary.
Shop Local
Enter your zip code below to find indies closest to you.
Description
How can we stay engaged with life day after day? How can we continue to love-keep our minds in a happy mood-when life is complex and often challenging?These are questions that Sylvia Boorstein addresses in "Happiness Is an Inside Job." In more than three decades of practice and teaching she has discovered that the secret to happiness lies in actively cultivating our connections with the world, with friends, family, colleagues-even those we may not know well. She shows us how mindfulness, concentration, and effort-three elements of the Buddhist path to wisdom-can lead us away from anger, anxiety, and confusion, and into calmness, clarity, and the joy of living in the present.
About the Author
Sylvia Boorstein is cofounding teacher at Spirit Rock Meditation Center in Woodacre, California, and a senior teacher at the Insight Meditation Society in Barre, Massachusetts. She lectures nationally on Buddhism and mindfulness, and teaches Vipassana and Metta meditation.
Praise For Happiness Is an Inside Job…
#1 SAN FRANCISCO CHRONICLE BESTSELLER

"A wonderful book, heartwarming and wise, that conveys the essence of what the Buddha taught in the voice of a gifted storyteller, teacher, friend, and compassionate human being."
–Sharon Salzberg, author of Lovingkindness

"Sylvia Boorstein's lessons, gleaned from a life of internal reflection and mindful teaching, are delivered with such openness, love, and affection that it feels as if you are sitting with Sylvia in her living room soaking in the wisdom of an enlightened friend."
–Daniel J. Siegel, M.D., author of The Mindful Brain

"This book will convince you that your own happiness really is much more available to you than you may have thought."
–Jon Kabat-Zinn, author of Coming to Our Senses

"Should be required reading for all human beings."
–Stephen Cope, author of The Wisdom of Yoga

"Reading this wonderful book is like having a heart-to-heart with Sylvia. It is wise, warm, and full of great stories that will make you smile. Best of all, it will cheer your spirit by showing you how to practice happiness." 
–Jack Kornfield, author of A Path with Heart