It's Your Time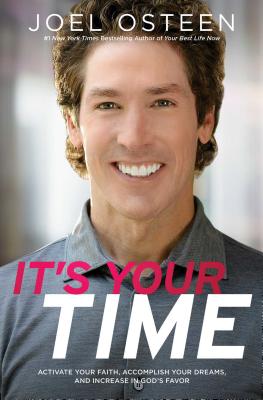 It's Your Time
Activate Your Faith, Achieve Your Dreams, and Increase in God's Favor
Free Press, Paperback, 9781439100127, 305pp.
Publication Date: October 5, 2010
* Individual store prices may vary.
Buy Now
or
Shop Local
Enter your zip code below to purchase from an indie close to you.
Description
"
Get your hopes up. Raise your expectations. Your best days are in front of you.
This is exactly the moment to put your faith into action and expect God's blessings.
It's your time to declare your faith, to look for God's favor, and to give control of your life to Him so that you can find fulfillment in His plans for you It's Your Time "to believe."
"
In "It's Your Time," an instant #1 bestseller in hardcover, Joel Osteen, who has quickly become the pastor of a new generation and a voice of hope for millions, issues a call to readers to seize the day and recognize that God has given them the power to improve their lives. Whether you are going through a difficult time or looking for ways to increase in God's favor and soar to new heights of fulfillment, this book will provide bold new prayers, inspiring stories, and practical tools to help you move forward in faith and realize your dreams.
The hopeful messages and warm encouragement in this book will push you to expand your horizons beyond what you thought you were capable of doing so that you might go even further than you d ever dreamed of going.
IT S YOUR TIME

About the Author
Joel Osteen, oriundo de Texas, es pastor de la Iglesia Lakewood, una de las iglesias mas grandes y de mayor crecimiento en Estados Unidos. Segun la agencia de investigacion de medios Nielsen, Joel es la figura inspiracional mas vista en America. Sus sermones semanales se trasmiten por television en todos los mercados estadounidenses con una millonaria audiencia. Tambien se transmiten en cerca de cien naciones alrededor del mundo. Su primer libro vendio mas de cuatro millones de copias y se mantuvo en la lista de los mas vendidos del New York Times por mas de dos anos. Desde entonces, Joel ha escrito varios titulos, incluyendo Lecturas diarias de lo mejor de ti. Joel aparecio en un sinnumero de programas de television como Larry King Live y fue nombrado entre Las 10 personas mas fascinantes del 2006 por Barbara Walters.