Us Armored Units in the North African and Italian Campaigns 19422-45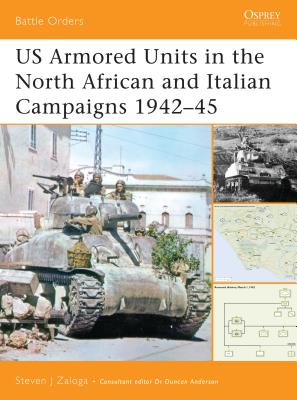 Us Armored Units in the North African and Italian Campaigns 19422-45
Osprey Publishing (UK), Paperback, 9781841769660, 96pp.
Publication Date: August 1, 2006
* Individual store prices may vary.
Buy at Local Store
Enter your zip code below to purchase from an indie close to you.
or
Not Currently Available for Direct Purchase
Description
The Mediterranean Theater of Operations (MTO) saw the first operational deployment of US armoured divisions in World War II, and the experience proved chastening for the 1st Armored Division when it suffered defeat at the hands of Rommel's Afrika Korps at the battle of Kasserine Pass. This title covers the organization of these early US armored divisions, as well as the independent tank and tank destroyer battalions that accompanied them. It details the evolution if US armoured warfare tactics and doctrine, learned from the difficult experiences of North Africa, and illustrates how they were used elsewhere in the MTO, particularly in the Italian Peninsula.
About the Author
Steven J Zaloga was born in 1952, received his BA in history from Union College, and his MA from Columbia University. He has published numerous books and articles dealing with modern military technology, especially armored vehicle development. His main area of interest is military affairs in the former Soviet Union and Eastern Europe in World War II, and he has also written extensively on American armored forces.
Praise For Us Armored Units in the North African and Italian Campaigns 19422-45…
"Zaloga does an excellent job of breaking down and clarifying armor units' tables of organization... Though targeted at wargamers and modelers, the book is a worthwhile addition to a general WWII history library as well as one with a military vehicle emphasis." -John Adams-Graf, Military Trader Magazine

"...a very good survey of the WWII history of American mechanized warfare that focuses on an oft-neglected theater of operation.... The book is a worthwhile addition to a general WWII history library as well as one with a military vehicle emphasis." -Military Vehicles

"The Italian and (later) North African Campaigns are undoubtedly an enormously rich vein for armor modellers. Not only for the sheer diversity of vehicles, but for the many new types of vehicles which were introduced during the battles in these theaters. In this book, the constantly-evolving tactical doctrine is examined along with good, concise information on the vehicle developments which took place along with an immensely useful source book of these two fascinating campaigns." -Jim Rae, Armorama (August 2006)