Poisonville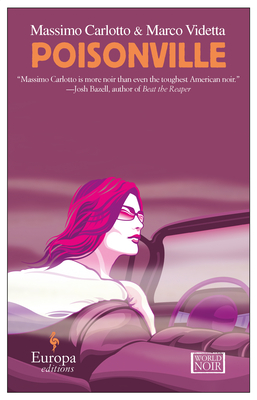 Poisonville
Europa Editions, Paperback, 9781933372914, 222pp.
Publication Date: September 29, 2009
* Individual store prices may vary.
Shop Local
Enter your zip code below to find indies closest to you.
Description
"Poisonville" is a noir thriller par excellence?there's murder, moral ambiguity, and a protagonist less than heroic. In this #1 bestselling noir novel, however, the killer is not an individual but an entire system.
The heavily industrialized northeast, Italy's richest region, is undergoing dramatic change. It once drove the nation's economic boom, a regional superpower, affluent and arrogant, a land that abided only its own rules. But then the factory owners began moving their operations east, across the border to former soviet countries where labor was cheap and regulatory bodies absent. With the factories, the jobs, and the riches gone, new elements began insinuating themselves into the old system, and the Brahmin families of the northeast began employing increasingly violent methods to protect their status and their wealth. Once renowned for its economic might, the region is now infested by organized crime, trafficking of every commodity, including human, ranks of media personalities and politicians on the payrolls of rich families and mobsters, and an ongoing environmental catastrophe.
Welcome to Poisonville Here, the young lawyer Francesco, heir to the region's second richest family, will have to decide between business as usual or a violent rupture with the ways of the past. The wrong choice could cost him his life.
About the Author
Massimo Carlotto's first book, an autobiographical novel entitled The Fugitive, deals with his time on the run in Latin America. Carlotto is one of the most important exponents of the Mediterranean Noir novel and has been called an Italian James Ellroy.



Antony Shugaar is a writer and translator. Aside from Giorgio Faletti's "A Pimp's Notes", his recent translations include books by Simonetta Agnello Hornby, Silvia Avallone, Nanni Balestrini (with an NEA translation fellowship), Fabio Bartolomei, Massimo Carlotto, Giancarlo De Cataldo, Diego De Silva, Marco Mancassola, Gianni Rodari, and Paolo Sorrentino. He is the author of "Coast to Coast" and "I Lie for a Living" and the coauthor, with the late Gianni Guadalupi, of "Discovering America" and "Latitude Zero". He has published with the "Washington Post", the "Boston Globe", and online with the "New York Times", among other publications. He is currently at work on a book about translation for the University of Virginia Press.