Ina Garten
Interview by Christopher Monte Smith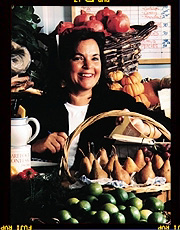 For more than 20 years, Ina Garten has run The Barefoot Contessa specialty food shop in East Hampton, New York. In 1999, her first book, The Barefoot Contessa Cookbook, became a sleeper bestseller from coast to coast. BookSense.com caught up with Ina while she was on tour for her new follow-up title on home entertaining, Barefoot Contessa Parties!
BookSense.com: Ina, where are you from?
Ina Garten: I grew up in Stamford, Connecticut.
When did you first become interested in food, and how did you learn to cook?
I think I was always interested in cooking but I never had an opportunity until I was married in 1968. I think the first meal I ever made I baked challah -- I love the challenge of a difficult recipe. I really learned how to cook by working my way through every recipe in both volumes of Julia Child's The Art of French Cooking.
You worked at the White House in the 1970s. During which administration? What was that like?

I worked in the White House from 1974 to 1978 during the Ford and Carter administrations. I worked in the Office of Management and Budget on nuclear energy issues. It was very exciting for the first few years because your work was going directly to the President. However, after four years, I realized that although I was working on projects that were $20 billion in size, nothing had happened in four years. I needed to run something that I owned and that I could make my own decisions with. Plus, I needed immediate feedback. I've found in the food business that I can decide at 8am if I want to see if people will buy sticky buns; we make them, and by 5pm I know if it was a good idea.
How did you get from the White House to the Barefoot Contessa?

In 1978, I came across an ad in The New York Times "Business Opportunities" section for a specialty food store for sale in the Hamptons, so I decided to investigate. It was love at first sight. I had no idea at the time how to run a business or how to buy food wholesale, but I knew this was for me. I made what I thought was a low offer -- I believed I'd have time to rethink while we negotiated -- and we drove back to Washington. The owner called the next day and accepted the offer!
What is the Barefoot Contessa? Who works there? Who shops there?
Barefoot Contessa is a specialty food store in East Hampton, New York. It's now about 3,000 square feet, including a kitchen where we make breads, pastries, salads, dinners, and anything you would want for a wonderful meal. Plus, we carry all kinds of cheeses, smoked fish, caviar, and specialty groceries.
Isn't "The Barefoot Contessa" a movie?
Barefoot Contessa is the name of a movie from the 50s with Ava Gardner and Humphrey Bogart. It's about being elegant and earthy and I think that's what we are. The food is very good and very simple, which I think is also very elegant.
How did you come to write your first book, The Barefoot Contessa Cookbook? Was it hard to do?

So many people have asked for our recipes that I decided I had to write The Barefoot Contessa Cookbook. I realized that I simplified cooking for the store so we could make large quantities of delicious food very easily, and I thought people would want to do that at home. Furthermore, I taught myself how to not only make things in advance, but also to make things that actually taste better if they're made in advance. So, the cookbook invites readers into the store for our most popular dishes that can be made easily at home.
The book met with enormous success, becoming a bestseller, and everybody is cooking from it. Did the success surprise you? Why do you think it has received such a good response?
I was shocked at the success of The Barefoot Contessa Cookbook. I think in a world of cookbooks that are designed for chefs to show off their special style, The Barefoot Contessa Cookbook came across as accessible -- with food that everyone really wants to eat. I think my experience with the store has taught me that, while people like really interesting meals when they go to restaurants, they really prefer very simple food at home.
Your newest book, Barefoot Contessa Parties! is all about entertaining. Why parties?

I wrote Barefoot Contessa Parties! because my 20 years' experience catering parties in the Hamptons taught me that the best parties were the ones where the host and hostess were having fun. And that meant that the simpler the food, the more relaxed the hosts are. My philosophy of simple food made in advance works very well for entertaining as well as cooking for your family.
Is the menu the most important element in a party? What has to be present for a party to be a great party?
As I said, relaxed hosts are the key to a good party. I think a thoughtful guest list including people that you really want to see is next. Good music sets the tone. Surprises are terrific -- a lunch on Sunday afternoon, a picnic at the beach -- all set the scene. And the food is the last detail that's important, but certainly not the most important.
Do you have any perennial party tips? For instance, how loud should the music be? What mix of guests should one invite?
I do everything possible to make things easy. First, when people arrive there's a table set up with fixings for drinks so people can help themselves. I serve very simple nibbles like roasted cashews and good olives -- nothing wrapped in phyllo. I never serve a first course, just a delicious dinner and dessert. And finally, I try to assemble as much of the meal as possible -- maybe a peach, a sweet dessert wine, and a macaroon from a bakery for dessert.
You say in Barefoot Contessa Parties! that you often turn to books on entertaining for inspiration when throwing your own parties. Which books do you find yourself turning to most consistently, and how do they help?

The books that inspire me most are the ones from other specialty food stores and restaurants, because the recipes are tried and true. I love all the Loaves and Fishes cookbooks. I use Cucina Simpatica from Al Forno restaurant in Providence, Rhode Island. I like the two books by Sarah Chase who used to own Que Sera Sarah, a specialty food store in Nantucket, Massachusetts. And I use Patricia Wells' cookbooks about cooking in France.
Have you ever experienced a real party disaster?
That's easy -- it was 1969, and my husband and I were just married and living in North Carolina. I threw a big Sunday brunch for a crowd of 20 that I hardly knew, and determined to make a fresh omelet for each guest! I knew immediately what I had done wrong. A party isn't about food, it's about people. I spent all my time in the kitchen, and from the living room -- no talking, no laughter!
What was the best party you have ever thrown or attended?
My best party was one I planned in advance, so that I had absolutely nothing to do except visit with my guests. It was a summer garden party to celebrate the publication of my first book. I think it was a successful formula, so I wrote about it in Barefoot Contessa Parties! The scene, the recipes, and tips are on page 197 of the book.
What is the most interesting conversation you have ever had at a party?
I really have no idea! I like small parties so I can really get to know people. Large parties tend to be less satisfying to me unless it's an unusual occasion.
Is it more fun to host a party or to be a guest at one? Be honest.
I much prefer to host a party than be a guest. First of all, I love getting ready for a party. And second of all, I get to choose the guests!
When you're off duty and not at a party, what kind of meal do you enjoy, just to relax?

My favorite meal is a simple roast chicken with vegetables in the roasting pan.
Do you have a favorite restaurant at the moment? Do you like to go out?
I really don't have a favorite restaurant for the moment. I always like Eli Zabar's restaurants, E.A.T. and Eli's Manhattan, in New York City, because the food is amazingly simple and delicious, and the atmosphere is very relaxed. I always have a great time there.
The party is over, the guests have gone home. Do you sit down with a good book? What books are on your bedside now?

When the party is over, I do the dishes and go to bed! Martha Stewart is the only one I know who has the energy to read after giving a party. Right now, however, I'm reading Adam Gopnik's new book Paris to the Moon.
Do you have a favorite bookstore?
I don't really have a favorite bookstore, but as I travel around the country talking about my new book, I've been to two that are extraordinary -- R.J. Julia in Madison, Connecticut, and Rainy Day Books[1] in Kansas City, Missouri. They are both independent bookstores that are true intellectual meeting places for people interested in books.
What books or authors, not specifically on food or entertaining, mean the most to you?

I really love biographies like No Ordinary Time by Doris Kearns Goodwin, and Truman by David McCullough.
You're definitely a person who knows how to have fun and likes to laugh. What book or author always makes you laugh?
My friends make me laugh -- I can't say that I've found a book that makes me laugh as much. Maybe Helen Fielding's Bridget Jones's Diary.
When the game is up, and you are at that Great Party in the Sky, what kind of party will it be? Who will the other guests be?
When I arrive at the pearly gates, I hope God says to me, "We've reserved the penthouse suite for you and your friends are all waiting." I don't have much interest in meeting famous people -- I just want to be surrounded by the smart, funny, people that I love. But then, I wouldn't mind if James Ivory and Ishmael Merchant could stop by.
Are you happy at Barefoot Contessa and as the author of two great books? Could anything lure you back to the White House?

Nothing could get me back to the White House! I have been blessed with a life that astonishes even me. I'm married to the most amazing man I've ever met, I love the food business, I have wonderful friends, I live in East Hampton full-time, and the surprise of my life has been the response to the two cookbooks. It just doesn't get any better than this. And, although I wouldn't mind being 40 again, I know that all of this comes from having had all the experiences I've had, so even being in my 50s is okay with me.
What is next for Ina Garten?
I'd say another book is next for me, as well as continuing my column in Martha Stewart Living magazine. And seeing where all that leads will be really interesting to me.

[1] Rainy Day Books, Fairway Shops - 2706 W. 53rd Street, Fairway, KS 66205-1705 (913) 384-3126
---
Author photo by Tom Eckerle.