Shelley Jackson: Anatomist Extraordinaire
Interview by Gavin J. Grant
Shelley Jackson's first collection of short stories, The Melancholy of Anatomy has just been published (Read an excerpt). Split into sections for the four humours (choleric, melancholic, phlegmatic, and sanguine), Jackson's unique stories investigate the body from the inside out and outside in.
Jackson's previous works include a children's book, The Old Woman & the Wave, and the hypertext novel, The Patchwork Girl (see below for more information). In August, Jackson will publish another book for children, Sophia, the Alchemist's Dog. Born in the Philippines, brought up in Yugoslavia and Berkeley, Jackson now lives in Brooklyn, NY, with her dog Yuri, and the songwriter John Wesley Harding.
BookSense.com: The title of your short story collection is a play on an older book, The Anatomy of Melancholy. Could you talk about this?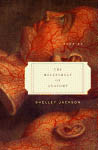 Shelley Jackson: The Anatomy of Melancholy by Robert Burton is an astonishing book, a patchwork of quotes collected by a kleptomaniacal reader with incredible range. (He described it as "a rhapsody of rags gathered together from several dung-hills, excrements of authors, toys and fopperies confusedly tumbled out.") It attempts to anatomize an amorphous and spiritual phenomenon, melancholy, at a time when the grasp of science on even concrete phenomena -- heck, on anatomy itself -- was pretty weak. (Its charts and subdivisions include headings like "subsection three -- of witches and magicians, how they cause melancholy.")

In The Anatomy of Melancholy, Burton tries to anatomize a spiritual condition. In The Melancholy of Anatomy, I try to do the opposite: spiritualize anatomy. I hope the result has something of the same flavor as an old science book that makes sense but has it all wrong, that mixture of pedantry and imaginative flair. Old science texts go through a sea-change as the centuries pile silt on top of them: they begin to read like fantasy, and the best kind, since fantasy acquires some necessary backbone when it's treated with strictest logic and even a kind of pedanticism. (I'm thinking of Kafka.) Of course Burton's book is nothing like a science book as we understand it; it's an incredibly, even ludicrously literate book. It's also a very playful book and an impure one by conventional standards, a gone-to- seed belle of letters wobbling voluptuously in the shadow zone between literature and nonfiction, original and plagiarism, science and religion. Mine aspires to the same territory, though it's a lot skinnier and more self- conscious. And by the way, some of my sentences might be a mouthful, but they're nothing compared to his.
When did you realize that your collection was coming together into something with an all-encompassing idea behind it?
I had done three or four anatomical stories ("Sperm," "Foetus," and "Cancer" were some of the earliest) and had ideas for more, but was starting to wonder if I was repeating myself. Then it occurred to me that there was another way to look at this, that the thematic similarites among the stories would resonate together in interesting ways if they were bound in one volume. Thinking of the project as a whole, too, I felt I could give myself more permission to play, since a piece that was frivolous would be dignified by its somber neighbors, and the more narrative pieces would rescue the ones that indulged in language to the detriment of plot (and vice versa). So, ironically, this "all-encompassing idea" actually made the collection more various: I stopped feeling that each new story had to sum up all my attitudes toward the body or toward narration.
Why is the book divided into sections for the four humours?

Early scientists tried to "read" the body and the whole natural world like a text in which holy but inscrutable things were written. They divided the body into the four humours; the humours corresponded to the four seasons and to different elements, which themselves had (to the alchemists) counterparts in religious mysticism; in this way the body and the whole natural world were conceived of as concrete texts, though impure and unclear ones. Scientists were like editors, clarifying the corrupt text. This kinship between body and text seems to me to work both ways: the book is a kind of body, and the way we feel toward it is a bit like how we feel about people. (I remember once noticing, as an easily embarrassed teenager, that it felt strange to undress in front of an open book.) My book is divided into humours to make it even more like a body, but a body that, like the body in medieval science, is in collusion with texts of all sorts.
Have you always been fascinated by the body as an object? Were you ever tempted to do some body-oriented job? (Doctor, nurse, physical therapist, martial arts guru, etc.)

You left out prostitute, go-go dancer, dominatrix, tattoo artist, and mortician. Some of those have tempted me, though I won't say which. But the body interests me most as something to write about, not to touch (not in a professional capacity, anyway). I am fascinated above all with using it as a object of fantastical transformations, because we care about the body and we know it intimately, and I think that makes it possible to invest bizarre scenarios with very strong, creepy, personal feelings.
You are somewhat well-known in the world of electronic literature for your work, The Patchwork Girl. How does it feel to have a book of stories out, something that, while not necessarily read front-to-back, is very different from a hypertext* work?
* [Hypertext literature is kind of like reading on the web, where the narrative structure is defined by reader (rather than the writer) and the act of reading and following links.]

Oddly, it feels kind of hypertextual. It would scarcely be in keeping with the shifty nature of hypertext to maintain a fanatical attachment to one medium, even if that medium was hypertext. I feel dispersed, but in a cheerful and intentional way, like one of those spiders who let their offspring set out on the wind on little silk parachutes.
What media do you find most satisfying (or dissatisfying) to work in?
I like black ballpoint pen in narrow lined college notebooks. Is that what you meant? I am a faithless but passionate person, and I love all my trades. Though I have to confess that I sometimes think writing a novel is an absurd and doomed enterprise, much too much work for one person to do alone. You really ought to get a group of friends together with sandwiches and beer and sleeping bags and put it together over a long weekend.
Are you working on anything now?

Lots of things. I've been writing some vaguely anatomical songs, with the perverse and humiliating idea of performing them at my readings, despite the fact that I can't really sing or play guitar. In my spare time, the Doll Games -- the website my sister and I made to document the perverse and obsessive doll games we used to play -- continues to inspire permutations. And I am finishing a novel full of monsters and explosions.
You're also a book illustrator. What kind of books do you like to work on?
I like books that leave me a lot of play, and I often change my style completely between books, possibly to the alarm of my publishers. I have a picture book coming out in September, Sophia, the Alchemist's Dog, that is full of borrowings from old alchemical engravings and trompe-l'oueil effects; the next one will be totally different, since it's set among dadaists in Zurich in the early 20th century -- I'm picturing photo-collages and typographical mayhem!
What are you reading?

Dearest Pet, a history of bestiality. Raymond Roussel and the Republic of Dreams, a biography. A book on feral chilren. A collection of essays on the Czech animator Jan Svankmajer.
If you worked at a bookshop, what would be on your staff picks shelf?
Tristram Shandy by Laurence Sterne. The Third Policeman by Flann O'Brien. Ryder by Djuna Barnes. Moominpappa at Sea, by Tove Jansson. A High Wind in Jamaica, by Richard Hughes. And of course The Anatomy of Melancholy, by Robert Burton.
Have your recommendations changed now that you no longer work at a bookstore?
The biggest change since I left the bookstore is that these days I have no idea what the latest Big Thing is. However, that does not change my recommendations one iota.
What was the oddest thing that happened to you while working there?

Maybe it was the "poison glove" incident, or the exploits of The Vaseline Man, or the narcoleptic customer I kept finding stooped over the sale table with her forehead propped on a pile of books -- but right now I am remembering a particular crazy man who didn't like me very much, and showed this by taking up a position near me whenever I took a lunch break outside, and burping with great concentration and a significant air. One day he came into the store with a present for me, a battered action figure with a hologram of a melting skull for a face. "I thought you might know someone with this problem," he said, giving it to me.
What are your favorite bookshops?
Moe's[1] in Berkeley is the platonic form of the used bookstore, though I like to think Phoenix Books [2] -- the store I used to manage in San Francisco -- was pretty good for a small place. In the East Village in Manhattan there's a tiny store, East Village Books, somewhere around 9th street that has almost no books, but practically every one they have is great. For new books I like to go to Saint Mark's. And there's a little store in Boston that is like a book church, where the nice man let me touch a first edition of Ulysses...
Are you touring for this book?

You must be thinking of Shelley Jackson and Kelly Link 2002: The Great Pippi Longstocking Memorial Tour! In May, Kelly and I are setting out in my old ramshackle van (recently tagged by "Dr God") to do a series of joint readings in independent bookstores across the country. I shall be keeping a tour diary -- with photos -- for Bold Type, so you can follow along.
[1 ]Moe's Books, 2476 Telegraph Avenue Berkeley CA 94704 Internet/Art: (510) 849-2133

[2] Phoenix Books, 3850 24th Street,San Francisco, Ca, 94110 (415) 821-3477
---
Shelley Jackson On Tour:
April 12, Priaire Lights, Iowa City (with Ben Marcus)
April 19, University of Texas, Austin, TX
-- with Kelly Link:
1 May, 7.00 PM, Housing Works, 126 Crosby Street, NYC 10012 (212) 334-3324
2 May, 7.00 PM, McSweeney's Store, 429 7th Ave., Brooklyn, NY 11215
6 May, 7.00 PM, Mac's Backs Paperbacks, 1820 Coventry Rd., Cleveland Heights, OH 44118 (216) 321-2665
7 May, 7.00 PM, Quimby's, 1854 W. North Ave. Chicago, IL 60622 (773) 342-0910
8 May, 6.30 PM, DreamHaven Books, 912 W. Lake Street, Minneapolis, MN 55408 (612) 823-6161
11 May, 12.00 PM, King's English 1511 South 1500 East, Salt Lake City, UT 84105, (801) 484-9100
13 May, Moe's Books, 2476 Telegraph Ave., Berkeley, CA 94704 (510) 849-2087
14 May, City Lights, 261 Columbus Ave., San Francisco, CA 94133 (415) 362-8193
16 May, Public Library, Fort Mason Center, San Francisco, CA
18 May, 1.00 PM, Tsunami Books, 2585 Willamette Street, Eugene, OR 97405 (541) 345-8986
19 May, 4.00 PM, Elliot Bay Bookshop, 101 S. Main St., Seattle, WA 98104 (800) 962-5311
20 May, 7.00 PM, Powell's Books, 1005 W. Burnside, Portland, OR 97209 (503) 228-4651
23 May, 8.00 PM, Ruminator Books, 1648 Grand Avenue, Saint Paul, MN 55105 (651) 699-0587
28 May, 7.00 PM, Shaman Drum Bookshop, 311-315 S. State St., Ann Arbor, MI 48104 (734) 662-7407
More Short Story Specialists:
George Saunders -- short story guy
Luis Alberto Urrea -- another one
Patrick O'Leary -- a third!
Ray Vukcevich, ok, four is enough
Showing them how to do it: Joan Aiken
Thisbe Nissen -- looking at New York City from afar
Connie Willis -- just one of the smartest an funniest writers you'll read
And:
The Patchwork Girl
Not to be missed: Shelley Jackson's website, Ineradicable Stain
John Wesley Harding
Shell