The Road-Dog Within
by Michael Perry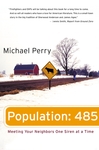 Writer/volunteer firefighter Michael Perry hails from Auburn, Wisconsin -- a small town that is the setting of his memoir, Population 485: Meeting Your Neighbors One Siren at a Time, nominated for the 2003 Book Sense Book of the Year Award in the Nonfiction category. Read on to find out what Perry learned from life on the road, and how he feels about returning home.
We had our first big wildfire of the season this week. The wind was whipping the fire across a field of tall, dry grass and into the treeline. There were houses a quarter-mile away. We got the brush rig into the field and it sank to the hubs, but we were able to keep it moving thanks to the frost line, which is still in place about eight inches down. The mud flew, but the truck kept inching forward. We did most of the firefighting on foot and up close, so close our faces were sooty and our legs were hot. We wear canvas backpacks filled with water and chase the fire down, sometimes swatting it flat with shovels.
While we were fighting the big fire, a smaller one started about a mile away. A bunch of local folks got together to put it out. We were utterly exhausted when we came trudging up out of the swamp a few hours later, but were exhilarated by the simple, straightforward necessity of the battle. It was a daytime call on a weekday, so only a handful of us were available: The two town maintenance men, a construction laborer, a Wal-Mart employee, a concrete worker, a factory worker and mother of two.
Since Population: 485 came out last October, my book tour has taken me from Duluth, Minnesota, to Jackson, Mississippi, and from Omaha to New York. I put more than 7,000 miles on my Chevy. When I kill the radio, I hear a rumble that tells me I ought to price a new set of tires. For now, I just turn the radio back up. A good, loud, loping country music song will make any vehicle fit for travel.
Country music roadies call themselves road dogs. They are hooked on movement. The spinning of the wheels, the tunk-tunk of the tar strips, the landscape on rollers -- it all feeds the addiction. I loved the hours alone on book tour, just me looking out the windshield, the concrete sweeping beneath the chassis, and then, somewhere along the line, a welcoming group of people who have taken time from their responsibilities to sit for a bit while you read and talk and try to live up to your publicity photos.
I grew up on a farm, and am only half-joking when I say I learned everything I ever needed to know about writing from cleaning my father's calf pens...that is, you just keep shoveling until you've got a pile so big, someone has to notice. When you've been shoveling as long as I have, and then you look up in Dayton, or Oxford, or St. Paul, or Kalamazoo, and you see friendly faces, your first thought is a heartfelt cliché: I can't thank everyone enough. In short, the road has left me grateful.
I'm happy to be home. When we got back to the fire hall, we all posed in front of the mud-caked brush truck. We were grinning and grimy. It's good to be at the center of this tiny circle (radius, maybe six miles) that informs everything I have ever written. Still, I keep one ear cocked toward the freeway. You can hear the wheels from here.
Author photo by Shimon & Lindemann, courtesy of HarperCollins.
---
Population 485 was a Top 10 Nov./Dec. 2002 Book Sense 76 Pick:
"This is a rare and wonderful book. Perry has brought us to a town rich with history and personality, and he recounts his family's lives as volunteer firefighters. It would seem that this would result in a memoir of sorrow and pain, as the town's history unfolds from disaster to disaster, but instead, it is a story of great humility, humor, and humanity." -- Russ Harvey, Cody's Books, Berkeley, CA