Jumping Tracks
by James Sallis
Standing there on the midway in the throng (65,000 people that day, I learned later) two thoughts occur to me. First, how reassuring all this is: people do read, they do care about books. And second, for so long, I seem always to have carried multiple passports, moving effortlessly between cultures -- or is it simply that I have no country?
I'm attending a major literary conference more or less as a mystery writer, having published a series of well-received novels and a biography of Chester Himes. So I take the opportunity to spend time with friends like Gary Phillips, Dennis Lehane, Val McDermid, George Pelecanos, John Shannon. But, arriving, I discover also that the hotel into which my publisher booked me is filled with science fiction writers in town for the Nebula Awards, many of whom I've known for 30 years or more, and spend the weekend shuttling back and forth between the two groups. The moderator on my panel at the festival is a poet who published my work back in the 1970s.
Early on in my writing career, I realized I wasn't destined to have much company on the backroads I traveled. Fellow mystery writers are surprised when they learn of my background in science fiction. Members of the science fiction community are prone to ask why I stopped writing. Friends among poets and literary-magazine editors often know little of my activities in either arena.
In past years I've published seven novels, three books of musicology, two volumes of literary criticism, a translation of Raymond Queneau's novel Saint Glinglin, the Himes biography, and multiple collections of stories, essays and poems. I've appeared in Asimov's, The Georgia Review, Ellery Queen's, Poetry East, Omni, Pequod, Amazing Stories, and The Review of Contemporary Fiction.
Some sort of literary hired gun? A quick-change artist, out of one costume and into the next in the blink between a scene change? Or, a species of literary chameleon, ever adaptive, taking on the colors about him?
It might seem so.
Nor can I deny that I've tended to write what I knew had a chance of getting published. By inclination a short-story writer, I worked at that trade 'til things got so bad I couldn't give the poor things away as wrapping for fish and chips. With the collapse of the short-story market, I turned to writing about music. Few writers back then knew much about music, whereas I had a good classical background and a profound interest in folk and ethnic musics. When that field in turn got flooded, I pulled on boots and waded across to nonfiction, turning out book reviews, essays and op-ed pieces, the occasional feature.
I'd published my first poem in Ann Arbor Review and my first story in a science fiction magazine at virtually the same moment, edited New Worlds while appearing in Transatlantic Review and Galaxy, and over the years, whatever other snipes I found myself hunting, continued publishing in literary magazines: 100 or more poems, dozens upon dozens of stories.
Then, in the mid-1980s, it seemed to me that the most interesting work (much as had been the case with science fiction in the late 60s) was being done in the mystery field. In London I'd been introduced to Hammett and Chandler, back in the States had rummaged the bins till I found Chester Himes and Ross Macdonald. Eventually, I began a story -- to be called "The Long-Legged Fly" -- that became, rather to my surprise, a novel; then, much to my surprise, another novel; and, finally and incredibly, a series of six.
All this time I carried on writing reviews and criticism for the Dallas Morning News, Book World, and the L.A. Times. Published a collection of essays on noir writers, Difficult Lives, as well as the first critical anthology on my old friend Chip Delany's work, Ash of Stars. Currently I write a books column for The Magazine of Fantasy & Science Fiction and a column on the writing life for Web Del Sol.
Poet, dedicated short-story writer, science fiction writer, critic, editor, occasional journalist, translator, musicologist, mystery novelist. Quite a spread. What do I want to be when I grow up? Thing is -- and that's what I'm up here to tell you, with another minute or two before the train pulls in -- it all seems of a piece to me.
I don't see much of a stretch from those early science fiction stories to last year's crime stories or those published in literary magazines. My critical agenda reflects what I reach for in my own work. And while by contemporary American standards my poetry -- heavily influenced by Eastern European models and by the French -- may seem offbeat, its concerns are the same concerns that emerge in my stories, essays, novels, and reviews.
You have an instrument, you can play anything on it. Early jazzmen, liberating from pawnshops horns that had once belonged to military bands and bending them to new use, knew that. My old friend Mike Moorcock once referred to what the two of us do in some of our most ambitious work -- this odd courting of genre conventions to high literary aim -- as playing Beethoven on the banjo. And you know what? Sometimes it doesn't sound bad. When we get it right, it sounds new, fresh.
Now if I can just get this thing in tune. . . .
Three poems by James Sallis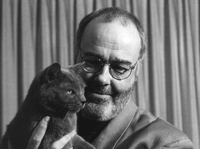 Last year James Sallis had ten books published, including his first volume of poetry (Sorrow's Kitchen) and a collection of essays (Gently into the Land of the Meateaters). He is the author of the popular Lew Griffin mystery series (including Eye of the Cricket, Bluebottle, and, coming later this year, Ghost of a Flea), an avant-garde novel, Renderings, and the spy novel, Death Will Have Your Eyes, as well as more than one hundred short stories, poems, and essays. Sallis has worked as a creative writing teacher, respiratory therapist, musician, music teacher, screenwriter, periodical editor, book reviewer, and translator, winning acclaim for his 1993 version of Raymond Queneau's Saint Glinglin. He has been shortlisted for the Anthony, Nebula, Edgar, Shamus, and Gold Dagger awards. He lives in Phoenix, Arizona, with his wife, Karyn.