Lee Smith
Interviewed by Gavin J. Grant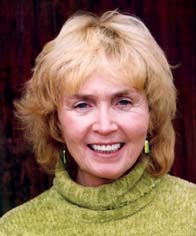 Lee Smith's latest novel (and No. 1 Book Sense 76 Pick!) The Last Girls, tells the story of four women who take a trip down the Mississippi River to scatter the ashes of a friend.
Smith is the author of many popular novels, including Family Linen, Fair and Tender Ladies, and The Devil's Dream. She lives in North Carolina with her husband, two dogs and two cats
BookSense.com: In The Last Girls four women take a trip down the Mississippi river -- emulating a trip they took 35 years earlier. Are you still in touch with your college classmates who you took the trip with 1966? What do they think of the book?
Lee Smith: Yes, I'm still in close touch with two of the "girls," and I see several others whenever circumstances permit --but we are a far-flung lot, and I've completely lost touch with a few of them. I sent galley proofs to my two good friends, however, and they love the book.One of them -- feminist scholar and critic Anne Jones -- is already deconstructing me! The other -- Washington journalist Nancy Head Beckham -- claims to recognize little bits and pieces of everybody here and there throughout the novel; she called the characters "composites." I guess that's about right.
Initially, I'd thought about looking all the girls up, conducting interviews, and doing a non-fiction book. But a few conversations put an end to that! I realized immediately that these women really wouldn't want me to publish all the private, painful, juicy stuff they were telling me, and I really didn't want to spill the beans myself, to tell about the times and the people who've most shaped my own emotional life. I'm no memoirist; I treasure my privacy.
So, since it's always easier for me to tell the truth in fiction anyway, The Last Girls is a novel. Its characters actually are fictitious, though after spending so much time with them, they seem more real to me now than my neighbors. But I imagine my major themes might have been somewhat the same, regardless of whether the book ended up as nonfiction or fiction. Through women's stories, I wanted to explore the idea of romance, the relevance of past to present, the themes of memory and desire.
If someone proposed going on a raft down the Mississippi now, what would you say?

If someone proposed a raft trip down the Mississippi right now, I'd say "yes" in a minute. I've always been an adventurer at heart. My two previous voyages have taught me that no matter what might go wrong, (and a lot went wrong on our original trip) or how much they try to commercialize it (the riverboat cruise) there is still a sense of vast grandeur and possibility about the river itself, a brooding aura of history and timelessness that can't be spoiled by any number of water-skiers or crinolined belles or Aunt Jemima salt shakers or "Forget, Hell!" beach towels for sale.
The river is real. It is wide and deep and full of mystery, with a story around every bend. And each voyage is a completely different voyage, of course, since we are different people every time.
Finally, each voyage is a voyage of self-discovery. I like that. One of the reasons I write fiction in the first place is that I'm trying to lead an examined life. A repeat trip is a way of keeping tabs on yourself -- much like a college or family reunion.
What did you think of the modern riverboats? Did you enjoy it?
I did enjoy the modern riverboat cruise, though the experience was entirely different from the original trip, of course. But then the original trip was different from what we expected. We had wrecks, rain, bug bites, sunburn, lots of really hard work, and too much media attention for the kind of pastoral idyll we had expected.
So one of the themes of this novel is just that: the gap between expectation and reality, especially in regard to women's lives.
Was it hard to write about the girls when they were in college? Do you have as many photo albums and scrapbooks as Courtney, one of the characters in the novel?

It was surprisingly easy to write those college scenes. I believe that everything which happens to us when we are young is imprinted upon us much more forcibly -- indelibly -- than later events. Perhaps this is because a young person is a tabula rasa. Never again will we feel so deeply -- will we experience such joy, such despair, such humiliation, such desire, such idealistic swelling of the soul, etc. Writing this book was a way for me to tap back into my own younger, more passionate mindset, my earlier life. So the girls were easy. They were right there waiting for me.
Okay, I confess -- I do have a lot of photo albums. But, unlike Courtney, I don't believe I can control anybody's life by affixing his photo onto the page with those comforting triangular tabs. I know I can't pin anybody down, not in real life, which I have pretty much given up on. Writing fiction allows us to create some kind of order (no matter how fragile or arbitrary or contrived or temporary it may be) from that confusing, disorderly, seething mass of conrtradictions we call Real Life.
Do you identify with any of The Last Girls more than the others?

I identify most with Harriet -- I've been a teacher for many years, and I've especially enjoyed working with women returning to school, as well as new readers in literacy and GED programs who are empowered to tell their own stories for the first time.
But luckily I'm not Harriet -- no traumatic event ever came along to place a psychological bell jar over my life, arresting me emotionally at a certain point -- this happened to Harriet, not me. But there's a certain way in which I am Harriet, too; there's a certain way in which I am everybody, each one of these girls. Maybe I've got multiple personality disorder...but seriously, this is another reason I write fiction: I'm greedy, I want to have more than one life. (Each of these girls became a little too real, frankly, during the writing of this book; I felt like the uneasy captain of a ship of mutineers, each one ready to seize the wheel, throw me overboard, and take over the novel.)
Anna, another character in The Last Girls, is a romance novelist. Have you ever written straight-ahead romance novels? If you did, would you use a pseudonym, and if so, what would it be?
No, I never have written straight-ahead romance novels, though I confess that once during a period when I was particularly broke, I sent off for the guidelines and tried it. But it didn't work -- my characters were too rowdy and willful, they wouldn't stay within their ordained plot. It is much harder to write romances than scornful artistes suppose; it is very hard. I had already picked my pseudonym: Desiree Jones.
Do you think storytelling in the South has changed in the last century?

Storytelling in the South has changed as the South has changed. For instance, in the 1930s, the South was two-thirds rural. Now it is more than two-thirds urban. Half of all Southerners were farmworkers in the 1930s; now that figure is at two percent. Our Southern birth rate, once famously above the national average, is now below it. This means that immigration is defining the South's growing (and increasingly multicultural) population.
So we've got a very different South down here from, say, Faulkner's Yoknapatawpha -- even though a few of the stereotypes still obtain. We may be less poor, but we are still violent, we are still fiercely family-oriented, and we are still crazy religious. We will bring you a casserole, but we'll kill you, too.
Here's the main thing that has not changed about the South, in my opinion: Southerners still love a story -- this goes for all Southerners, black, white, old, young, rural or urban -- and we will tell you anything. You don't even have to ask. Just start talking to us. Even the dullest information is often transmitted in the form of anecdote, of story. This is not likely to change anytime soon, as it appears to be genetic -- though the subject matter is changing, of course. I'm waiting for a big new Hispanic novel right now.
Was there a female equivalent of Mark Twain -- or did the times not allow it?

I don't believe there was a female equivalent of Mark Twain, who traveled everywhere, and wrote about everything; at that time, the woman's sphere -- and therefore, the woman writer's sphere -- was more domestic, though Willa Cather managed a greater geographic range than most.
Kate Chopin, my favorite writer of Twain's era, was literally mired in the bayou mud of her Louisiana family life; while Ellen Glasgow -- another favorite -- stuck close to the concerns of her Virginia home.
Have you ever written a book from the male point of view?
I have never written an entire book from the male point of view, though I have done this in several short stories. Oddly enough, I find that I always write my first draft in longhand when it's a woman's voice -- but I have to type if it's a man's! I like to write from the male point of view, however; one of my favorite sections in The Last Girls is Russell's. But I should confess that it's harder for me -- I can hear what they say, but I'm never sure what they're really thinking.
Do you have a good memory? Do you trust it? When you and the other girls get together, are you ever surprised by their memories of events?

I have a terrible memory myself -- and actually, I'm not sure I even believe in memory.
I have done a lot of oral history work over the years, and I have been struck again and again by how very different people's stories about the same event can be. This is true even in our own families. For instance, in talking with my cousins about the Sunday dinners at our grandparents' which we all attended for years, I got five completely different versions of what went on and what the family dynamics were. We could have been in different families!
But you know, it's always the storyteller's tale. Always. This one reason I like to write from the first person point of view -- it lets me off the hook; I'm not responsible for telling the truth, only one person's version of it. And in a novel with several first-person narrators, a king of composite truth may finally emerge.
Do you have any advice for young women writers?
My advice for young women writers is just do it. Don't wait for some ideal point in your life when you will finally have "time to write." No sane person ever has time to write. Don't clean the bathroom, don't paint the hall. Write. Claim your time. And remember that a writer is a person who is writing, not a person who is publishing. If you are serious about it, you will realize early on that (particularly if you expect to have children) you can't take on a high-power career in addition to writing. You probably can't be a surgeon, and have children, and "write on the side." (On the other hand, you could marry a surgeon, thereby solving the whole problem.)

What are you reading?
Right now I am reading Ian McEwan's Atonement, which is terrific.
Do you like going to bookstores and doing readings? Do you have a favorite bookshop?
I love going to bookstores, doing readings and signing books. We writers spend so much time alone in our little rooms (alone in our little heads, too) that it's a great relief and pleasure to go out and actually meet readers. After all, writing is a means of communication -- something we tend to forget. The reader is the other part of the equation.

It would be impossible for me to pick favorites among bookstores. My local favorites include Quail Ridge in Raleigh, owned by my friend Nancy Olson; they do great events there. Nancy has such a loyal clientele that it often seems like a clubhouse instead of a store. To visit McIntyres[1] in Chapel Hill is to visit a favorite aunt -- it's got those big soft armchairs and that perfumey smell. The Regulator in Durham attracts an intense, interesting crowd; their questions will put you on the spot. I love Paul Ingram's store, Prairie Lights, in Iowa City -- I love how much he loves the books he sells.
But they feed you best down in Oxford, Mississippi. I will never forget the meal I had once after a reading at Square Books: fried catfish at the Taylor Grocery, served with a green onion, two slices of white bread, and a couple inches of vodka in a mason jar.
If you worked at one of these bookstores what would be on your Staff Picks shelf?

On the "Staff Picks" shelf, I would have:
Jayber Crow, a novel by Wendell Berry
Island and No Great Mischief by Alistair MacLeod
Creatures of Habit by Jill McCorkle
Everything by Alice Munro, especially that last one with the really long title I can never remember: Hateship, Friendship, Courtship, Loveship, Marriage, or something
The Practical Heart, novellas by Allan Gurganus




---
[1] McIntyre's, 2000 Fearrington Village, Pittsboro, NC; 919-542-3030