Adrian Tomine
Interviewed by Andrew Duncan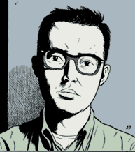 Adrian Tomine started Optic Nerve as a self-published zine in 1991. Drawn & Quarterly began publishing the comic in 1995, and has released two other Optic Nerve collections besides Summer Blonde: 32 Stories and Sleepwalk and Other Stories. Tomine has also contributed illustrations to numerous magazines, including The New Yorker, George, Details, Jane, and Pulse.

BookSense.com: When and why did you start doing comic books?
Adrian Tomine: I've been drawing comics (in various stages of crudeness) since early childhood, and my interest has just continued to grow over the years. I made the first step toward "serious" work when I was around 15, and I started self-publishing Optic Nerve as a little zine.
How did you get involved with [Optic Nerve publisher] Drawn And Quarterly?
After self-publishing Optic Nerve for a few years, I started to achieve some small level of recognition. A few established cartoonists gave me little "plugs" in their comics. I got a few write-ups, and I started selling more copies.
In 1994 or 1995, I got a call from Chris Oliveros, the man who essentially is Drawn & Quarterly, and he asked if I'd be interested in having them publish Optic Nerve as a full-size comic book. This had been my ambition all along, so I quickly signed on the dotted line, and I've been with them ever since.
What's your creative process? For example, do you write the story first, or sort of make it up as you go along?
I do a lot of "pre-work" before I actually start drawing. This involves wandering the streets and thinking, sitting on my couch and thinking, filling up notebooks with ideas, filling up sketchbooks with drawings, etc. When I feel like I've got a pretty good story worked out in my head, I sit down and do what I consider to be the hardest work. I get the scenes all organized, and I write a very rough version of all the dialogue. Then I convert those words into comics form. On a small tablet of graph paper, I break down all the dialogue into panels and pages, tinkering with the dialogue and quickly indicating characters with stick-figures.
Finally, I draw the actual pages that get printed. I often continue to change scenes and dialogue as I draw it because new ideas will emerge as I draw the actual panels. Based on advice from Chris Ware, I try to allow a certain level of spontaneity, even though my process is fairly labored.
How long, on average, does it take you to do a single issue?
It usually takes me a week to draw a final page, but if you factor in the writing process, as well as all the commercial illustration work I do, it can take up to a year for me to complete an issue.
This is your third Optic Nerve collection. Besides the obvious fact that the stories are longer, how has your approach to storytelling changed over the course of your first mini-comics through the regular series?

The biggest change I'm aware of is the move from autobiography to fiction. That is, in the earlier issues, I would often have a protagonist that looks like me and is named "Adrian," and now I tend to shy away from that. Of course, the terms "autobiography" and "fiction" can be misleading, because the truth is that these recent "fictional" stories I've written are actually much more personal and, in a way, revealing. There's a certain amount of cowardice or vanity that prevents me from putting all my ugly little moments into the comic, but when I disguise these things with fictional characters, it makes it easier for me.
Do you find that the ideas and themes you're concerned with are the same as when you first started out?

When it comes to ideas and themes, I'd be the first to admit that if there's any change in my work, it's been very slow and gradual. But if any change can be detected, I think it might be in my increasing willingness to show the less attractive side of characters' personalities. To me, this is just a natural result of trying to dig deeper into characters (and myself), and as I said earlier, the guise of fiction has been crucial in this process.
One of the aspects of your work that I enjoy is what I see as an emotional honesty in the portrayal of your characters and their relationships -- but it's offset with some humor, which makes it more realistic. Is much of your work autobiographical, or taken from experiences that have happened to people you know?
It's nice to hear that you pick up on the humor, because I rarely hear much response to it. I think I have a pretty dark sense of humor, so there's a lot of stuff in the comics that is amusing to me, but I don't turn it into a gag, and I don't make it obvious that it's supposed to be funny.
And yes, all my writing is based on my own experience in some capacity.
A lot of press on Optic Nerve tends to refer to you as a "voice of Generation X." What's your reaction to that designation? Do you see any of your themes or any of your characters' characteristics as being generation-specific?
Ugh, this question again! I have never consciously tried to write anything that would be generation-specific. I think this response has arisen just because I'm trying to write and draw realistic scenes from my own experience, and I happen to be of a certain age. I think it would be really misguided for me to try to cynically pander to people in their twenties, but I also think it would be false if I tried to consciously get away from that and write about 50-year-old Ukrainians or something.
Again, a lot of press compares your writing to 1970s American film and fiction, especially the "realism" of Raymond Carver. Are they acknowledged influences?

A lot of people don't believe me when I tell them this, but here's my story about Raymond Carver. When I started drawing Optic Nerve, I had never even heard of him. After several issues, I started getting letters from people saying that they could see his influence on me. Eventually, my older brother told me more about Carver and recommended one of his collections to me. Of course, when I read his work I instantly fell in love with it, and I'm sure it had a big impact on me, but I think I was already heading in a certain direction before I read him, and his work just reinforced that.
I haven't heard 70s American film mentioned much, but I might be able to see the connection. I've always been a big fan of Scorsese's movies from the 70s, and probably more significantly, Woody Allen's.
Your art has this kind of minimal and detached, but full-of-emotional-realism, aspect to it. How did you develop your drawing style? What were/are your influences in that respect?
I think my visual influences are a lot easier to pinpoint. I never received any kind of formal art training (and certainly not any formal comics training), so for better or for worse, the way I learned was by studying and copying my favorite artists. And for that reason, I think my influences are still all too apparent in my work, but are slowly being distilled into something that's more my own.
Did you ever think Optic Nerve would be as successful as it is?
No. I think when I was younger I suspected that comics might be a life-long hobby. I don't even consider myself that successful now, but I'm grateful for every day that I don't have to get a real job.
The future of comic books has been called into question with some frequency in the last couple years, and they continue to hold a strange place in American culture. What kind of future do you see for the medium?
God, I try not to think about it too much. I've always thought that the best thing I can do to help keep comics alive and vital is to just keep my nose to the grindstone and to try to produce the best work I can. If you read too much about the "state of the industry," in can be pretty depressing. But on the positive side, nothing has made me feel more optimistic in the last few years than walking into a normal bookstore and seeing the Pantheon Jimmy Corrigan:The Smartest Kid on Earth and David Boring books filed in the fiction section (as opposed to the usual Bill Cosby/Dungeons and Dragons/Dilbert ghetto).
What are you working on now?
I'm working on my longest story to date, which will probably be serialized in the next three or four issues of Optic Nerve. I don't want to say too much about it yet, but it has definitely been my most challenging project. I've gotten so used to writing very short, elliptical stories that to try to organize something this long has been almost overwhelming. And compared to what people like Chris Ware or Chester Brown have done, this is chicken-scratch! My hope is that readers will at least view this story as a noble failure, and a stepping-stone towards more ambitious works.
One of your stories was chosen for Dave Eggers' Best American Non-Required Reading Anthology. How did that come about?
I'm not really sure how this came about. I just got an email saying my story "Bomb Scare" (from Optic Nerve #8) had been selected to be in this book. I think Mr. Eggers got some input from the teenage students at his reading center in regard to the selection process, so maybe my story appealed to them.
The unexpected part of the whole process was that there was some editing required...apparently some of the content was deemed unfit for high-school-age readers. When I heard this, I thought for sure the story was going to be butchered, and I was prepared to decline to be involved. But I talked to an editor at Houghton Mifflin, and the changes they wanted were surprisingly minor. Most of the obvious things like swearing and nudity still made it into the story, while some of the edits were totally perplexing. I was actually allowed to make the changes myself, and I came up with all the "solutions" on my own. My hunch is that no one will even notice the changes, but they're in there for the careful reader to find.
Anyway, it's a real honor to have been selected, and my hope is that it will get a few young readers interested in the world of "alternative" comics.

What's it like being interviewed now as opposed to when you were first starting out? Any differences?
I didn't have email when I was first starting out, so I did more phone interviews and, as a result, probably sounded a lot less articulate.

What are you reading?

I recently read all of Rick Moody's fiction books, and now I'm reading After the Quake by Haruki Murakami.
If you worked in a bookstore, what would be on your staff picks shelf?
Jimmy Corrigan: The Smartest Kid on Earth by Chris Ware
Ghost World by Daniel Clowes
I Never Liked You by Chester Brown
The Ice Storm by Rick Moody
The Heart is a Lonely Hunter by Carson McCullers
Will You Please Be Quiet, Please? by Raymond Carver
The Dirt by Motley Crue







Do you have a favorite bookstore?
I spend a lot of time in all the local bookstores here in Berkeley and Oakland. Mainly I go to Avenue Books[1], Cody's[2], Moe's[3], and Pendragon[4].
---
1. Avenue Books, 2904 College Avenue, Berkeley, CA (510) 549-3532

2. Cody's Books, 2454 Telegraph Avenue, Berkeley, CA (510) 845-7850
3. Moe's Books, 2476 Telegraph Avenue, Berkeley, CA (510) 849-2087
4. Pendragon Books, 5560 College Avenue, Oakland, CA (510) 652-6259