Henry Winkler: From Actor to Author
By Linda M. Castellitto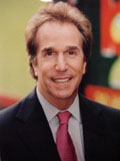 Henry Winkler is an actor, writer, producer, director, and now author -- with Lin Oliver -- of a new children's-book series, Hank Zipzer: The Mostly True Confessions of the World's Best Underachiever.The first book in the series, Niagara Falls or Does It? came out in May; two books have since followed, with two more on the way.
When we hear the name Henry Winkler, most of us smile and remember the actor in the role of the Fonz on the 1970s sitcom "Happy Days." The guy in the leather jacket could summon women with a snap of the fingers, and he somehow made an office with a men's-room view the height of cool.
Winkler's been busy since then, to say the least -- he's continued to act in movies, on Broadway, and on television, and has also directed and produced. At present, he is a producer of television's "Hollywood Squares."

Winkler has also been writing books: he is the author, with Lin Oliver, of a new series of children's books called Hank Zipzer: The Mostly True Confessions of the World's Best Underachiever, published by the Grosset & Dunlap imprint of Penguin Putnam. The books feature whimsical illustrations by Carol Heyer that evoke the days of looseleaf paper and three-ring binders, and the amusing author biographies are fun, too.
It is through Winkler's foray into author-dom that we learn things weren't always so easy for the man we watched on TV; rather, Winkler has dyslexia, which went undiagnosed until his own stepson's diagnosis. "[My stepson] is so verbal, funny, and clever. We thought he just wouldn't write those paragraphs, or he didn't pay attention...he smudged and erased and put holes in the paper. When we took him to be tested [and learned of his dyslexia], I realized that everything that had been said to him applied to me."
In this new children's series, those labels are applied to Hank Zipzer, a charming fourth-grader who is inquisitive and bright...but you wouldn't know it from his report card.
Winkler notes that he was not a high scorer on the tests he took in school: "I took the SAT, and combined, I didn't even have enough of a score for bus fare." But he kept trying, because he always knew he wanted to be an actor, and knew he wanted to stay in school so he could study acting. He applied to 24 colleges, and was accepted by two, one of which was Boston's Emerson College, where he studied theater and child psychology; he went on to get his MFA from Yale School of Drama.
And now the kid who had trouble reading has become an author, an idea Winkler says never occurred to him. In fact, before he met coauthor and children's television writer and producer Lin Oliver for lunch to discuss the idea, "it wasn't even in my consciousness," and he roundly resisted the notion...but Oliver eventually won him over.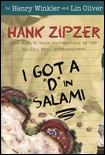 The two work as partners on the books and, Winkler says, "We fight over every word." He adds that he doesn't have a computer ("Last year at 'Hollywood Squares,' I had a screen but no hard drive; they took it away from me. I used the monitor as a frame for pictures of my family"), so Lin sits at a computer, pulled up to the desk in a big green leather chair. Winkler walks around the room or sits on a rocking chair near the desk, and the two plot out storylines, character profiles, and dialogue.
Their creation, Hank, is a kind, funny kid with a cool cadre of friends and a wonderful grandpa named Papa Pete. As is typical of fourth-grade boys, young Zipzer has all sorts of escapades, some of which land him in detention. For example, in the first book in the series, Niagara Falls or Does It? (published in May), Hank is very worried about writing an essay for a class assignment -- a seemingly insurmountable task -- so he decides to create a "living essay," with hilarious and unfortunate results.
A pivotal moment for Hank comes in the second book, I Got a D in Salami: he receives a very, very bad report card, followed by news that is simultaneously shocking and gratifying. It is in this book that Hank is diagnosed with learning differences, and finds out that he's not stupid, after all.
The testing process and Hank's reaction to the results are described with veracity and sensitivity, because of their similarity to situations in Winkler's own life. "I'm connected to all of the situations in the books because I lived them," he says. He recalls the feeling of being left behind the other kids at school, noting, "It burrows into your self-esteem, just undermines your foundation of self-image."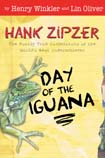 However, while Hank does wonder at times if something is wrong with him, the series is most of all a humorous one that's accessible to kids and adults alike. Winkler emphasizes that "the books are not meant to be self-help." Rather, he says, they're "funny novels for young people about a kid who happens to be dyslexic."
When it comes to making sure the word about the books gets out to readers of all ages, Winkler doesn't take a back seat. He attributes his alacrity to the fact he's a producer: "I have gone into several stores, signed all the stock, and brought the books up front to ask, 'Wouldn't these be better up here?' One chain store had a life-sized picture of me holding the books, and I pulled that display around, too.'"
Winkler has signed stock at various independent bookstores, including New Jersey's Books, Bytes & Beyond, and his local bookstore, Dutton's (he hasn't moved the life-size photo-display there -- yet). He says he says he buys all his thrillers at Dutton's, noting, "I can only read thrillers...somehow, they hold up my brain. If someone gives me a really big book, I'm so intimidated you can't believe it."
Winkler cites Daniel Silva, Robert Crais, Michael Connolly, Stephen Hunter, and Ken Follett as favorite authors, and says his "favorite, favorite" book is Caleb Carr's The Alienist. Non-thriller books he recommends include Angela's Ashes, The Amazing Adventures of Kavalier and Clay, and Cold Mountain.
Right now, though, Winkler is focusing more on writing the Hank Zipzer books than on reading other ones. The Day of the Iguana was just published this month, Zippety Zinger is due out in November, and The Night I Flunked My Field Trip is due out next Spring.
He's also working with several organizations devoted to helping children. His main focus is the Children's Action Network, of which he and his wife are co-founders, along with the likes of Steven Spielberg and Dodgers CEO Bill Daley.

The group has opened two Kids Café locations in Los Angeles; at the Cafés, homeless children are fed each day, offered mentoring services, and privy to fun goings-on -- including story-time sessions. Says Winkler, "Last year, I read them A Big Fat Enormous Lie by Marjorie Weinman Sharmat; the year before, I read them Peter Armour's Stop That Pickle! This year, I read them Hank Zipzer."
Books, Bytes & Beyond - 197 Rock Rd., Glen Rock, NY (201) 670-6766
Dutton's Brentwood - 11975 San Vicente Blvd., Los Angeles, CA (310) 476-6263

---