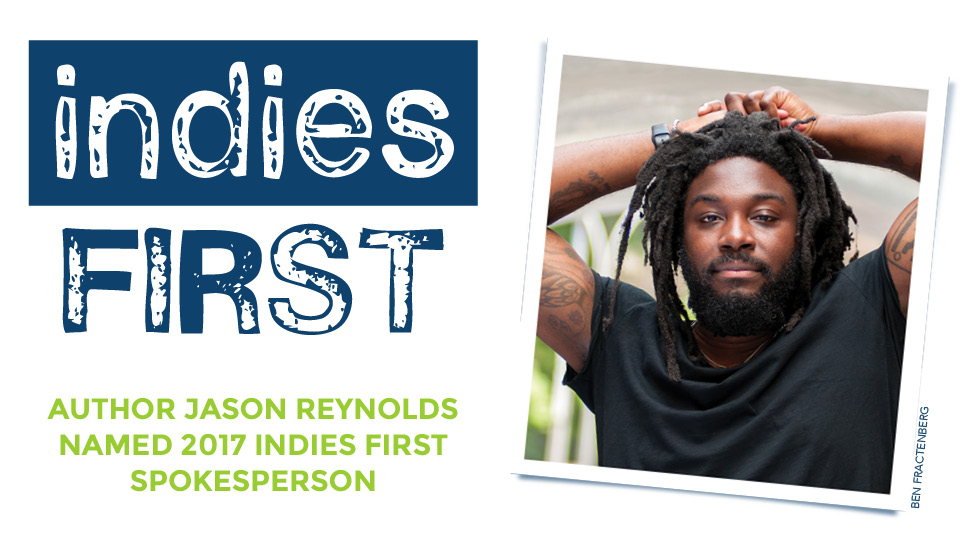 Indies First is a collaboration between authors, publishers, retailers, and readers that celebrates independent bookstores and local communities. Events and festivities, many of them featuring authors as guest booksellers, are planned in hundreds of stores for Saturday, November 25, 2017, in conjunction with Small Business Saturday. Bookmark this page and check back for a map of activities in November.
 
Author Jason Reynolds is the 2017 Spokesperson for Indies First!
Jason Reynolds is the author of the critically acclaimed and award-winning novels When I Was the Greatest, Boy in the Black Suit, and co-author of the New York Times bestselling All American Boys. His As Brave As You was a Time Book of the Year, and Ghost, the premier book in his middle grade "Track" series, was a National Book Award finalist. Jason is also a Kirkus Award winner, a Walter Dean Myers Award winner, an NAACP Image Award Winner, and the recipient of multiple Coretta Scott King honors. He has two books coming in Fall 2017: Patina, the next installment of the "Track" series and Long Way Down, a YA novel, being published by Caitlyn Dlouhy Books/Atheneum Books for Young Readers, an imprint of Simon & Schuster Children's Publishing, in addition to the recently published Miles Morales: Spider-Man, a YA novel from Marvel. You can find his ramblings at JasonWritesBooks.com.
Why Buy Books in Your Local Independent Bookstore?
You may be about to make a purchase you'll value for the rest of your life
You'll be shopping on your local main street
You'll be helping create local jobs
You might just find a book you never knew existed
You'll find great gifts for friends and family
You can talk to real people about books they know and love
You'll be part of your local book-loving community
And that's just the beginning.
Indies First is a program of the American Booksellers Association.
www.BookWeb.org